Exclusive
Best Supporting Actress? Reese Witherspoon Getting 'High-Level Strategic Counsel' From Talent Agent Hubby In Bid For Oscar Nomination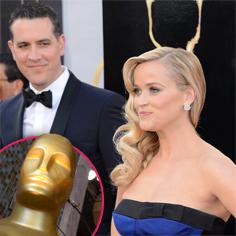 Is Reese Witherspoon playing dirty this Oscar season?
With the help of her husband and CAA talent agent boss Jim Toth, the 37-year-old A-lister "is getting high-level strategic counsel" to help spearhead her bid for a best supporting actress Oscar nomination, RadarOnline.com has been told.
According to an insider, Toth is "trying not to attract too much attention as he runs a secret war room for Reese's best supporting actress campaign this year."
Article continues below advertisement
Her Mud co-star Matthew McConaughey will be vying for the best supporting actor — but he appears on the movie posters and had a much larger role than Witherspoon.
"Jim believes that if Matthew gets nominated for supporting actor -- as part of the momentum from his best actor campaign for Dallas Buyers Club -- then Reese has a real shot for her role in Mud," the source told Radar.
In fact, the insider reveals that Toth is being super proactive with Academy members, already supplying small Mud distributer Roadside Attractions so it's one of the first screeners the Oscar members will see this season.
"This happened around Labor Day and annoyed a lot of the actresses who also had best supporting nomination hopes," the source said.
"Because all of the sudden here's Reese's little movie coming in their mail, before anyone has even seen their performances."
Not fair, or is she just ahead of the game? Sound off below…