Bad Dad! Judge Slaps Oprah Winfrey's Father With $70K In Fines Amid Allegations Of 'Adultery' & Financial Scheming In Dirty Divorce Deal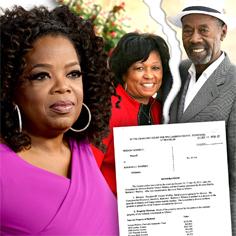 A court has finally settled the bruising divorce between Oprah Winfrey's dad and stepmom, almost a year-and-a-half after the pair separated amid allegations of infidelity and his use of prostitutes.
RadarOnline.com has exclusively obtained a Tennessee judge's memorandum, issued on November 1, during which Vernon Winfrey was blamed as the reason behind the split "on the grounds of adultery and inappropriate marital conduct."
Article continues below advertisement
Because of that, Oprah's fathers' initial petition for divorce after 12 years of marriage was rejected.
However Donald P. Harris, a Special Judge in the Tennessee Supreme Court, granted 66-year-old Barbara Winfrey's separate bid to end their union and ordered him to pay his ex-wife almost $70,000.00 in attorney fees!
"The plaintiff, Vernon Winfrey, failed to prove grounds for divorce," the judge wrote in his ruling entered into court on Nov. 1 — a copy of which you can read here.
"His Complaint for Divorce is, therefore, dismissed. Barbara J. Winfrey is entitled to a divorce on the grounds of adultery and inappropriate marital conduct. She is awarded a divorce on those grounds as prayed for in her Counter-complaint for Divorce."
What's more, RadarOnline.com can reveal that talk show queen Oprah, 59, was dragged into the judge's ruling, filed in Williamson County, Tenn., as part of the pair's contentious separation of assets.
Article continues below advertisement
In an interesting turn of events, it was revealed that Vernon, 79, gifted a property that he and his wife had owned — free-of-charge — to another man.
Then, the ruling stated, Vernon allowed it to go into foreclosure "knowing that it would be purchased by his daughter… to defeat any interest of Barbara Winfrey."
As a result, Judge Harris penalized Vernon for his apparent scheming, ordering that he be held liable for one of the pair's loan accounts and Barbara "be held harmless" because of his actions!
Vernon asked the judge to hold his ex in contempt of court for trying to sell some of their property behind-his-back.
The judge agreed, finding Barbara "knew she should not proceed with the sale of these lots without the agreement of Husband or the approval of court."
But ultimately, judge Harris determined no sanction should be applied because "property was not sold and there is no evidence Husband was significantly damaged by her actions."
Article continues below advertisement
The divorce documents also shed light on the skimp life Vernon and his wife lived, far from the bright lights of their daughter, who is said to be worth $2.9 billion.
It was revealed Vernon has $443,879 in "property" including a Nashville home worth $167,500, a trust valued at #$133,000 and a $1973 Mustang, listed at $4,522.
The couple also held a modest portfolio of communal property, which Judge Harris separated, including one property which was listed in in the television legend's name, said to be worth $188,100.
However, Vernon and Barbara had debts of $66,414, it was revealed — including $22,108 owed to Bank of America.
"Thus, the marital estate has a net value of $121,686," the judge noted.
"The court is of the opinion that each of the parties be awarded property and indebtedness with a net value of $60,843. Vernon Winfrey is awarded all the marital property except for the household furnishings located in the marital residence.
Article continues below advertisement
"He shall be awarded one-third of those furnishings and shall be required to pay all the marital indebtedness except for the Bank of America Visa Card.
"Wife shall be awarded two-thirds of the furnishings in the marital residence and shall be required to pay the Bank of America Visa indebtedness.
"To equalize the awards, Barbara Winfrey shall have a judgement against Vernon Winfrey in the amount of $50,024.34."
Interesting fact: Judge Harris noted that is Vernon and Barbara cannot divide their household furnishings, the disagreement shall be "determined by coin toss."
"Wife shall get two items, groups, pairings, or sets during each of her turns," he ordered.
"Husband shall receive one items, group, pairing or set for each of his turns. Wife and Husband shall alternate turns until all furnishings have been selected."
Article continues below advertisement
At one point, the divorce battle got so bitter that Barbara used divorce papers to accuse Vernon of threatening to kill her and claimed he cheated on her numerous times, including with a local hooker nicknamed "One Tooth."
A rep for Oprah told RadarOnline.com that she became involved in the situation because she didn't want her father's "life work to be dissolved."
The spokesperson said: "The property was in foreclosure and when it went up for auction, Ms. Winfrey bid and got it because she didn't want her father's life work to be dissolved."
For more details about the split, the National ENQUIRER — on newsstands Wednesday — is revealing sordid claims about a "blackmail plot, secret hook-ups, the existence of a sex-tape and a showdown with a gun."