Exclusive
Friends Of Oprah Winfrey's Dad Speak Out After He's Smeared By Wife In Dirty Divorce: 'Everything Is Not As It Seems'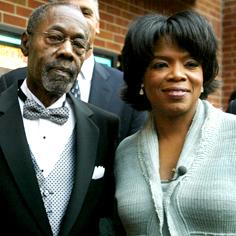 Article continues below advertisement
Says "Barber King" David Hiland, "Everything is not as it seems."
Despite the smears that Oprah's father has faced in the media, "Vernon is very, very, very well," Hiland insists. "There's a lot of twists and turns to the story that's out there, and everything is not as it seems."
"He's out of a bad situation and it's business as usual here at Winfrey's barber shop," Hiland continues. "Haircuts are $15 and we give the best ones in town!"
Another barber who declined to be named told RadarOnline.com, "Vernon is perfectly fine. … He's not giving any interviews."
Last year, Oprah chipped in to buy the barbershop for her dad who has been a barber for more than 50 years.