Is Miranda Kerr On A Photoshop Diet? Former Victoria's Secret Model Accused Of Shaving Down Her Waist In Photo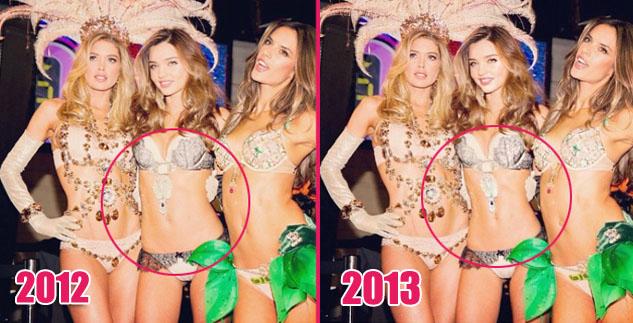 Former Victoria's Secret model Miranda Kerr is in hot water with fans after the 30-year-old re-posted an old photo on her Instagram account where her waist appears clearly thinner than the original photo, and RadarOnline.com has the details.
Posing front and center with models Alessandra Ambrosio and Doutzen Kroes backstage at the 2012 Victoria's Secret Fashion Show and she posted the photo at the time to her Instagram account, and then on Tuesday Kerr re-posted the photo — with one glaring difference.
Article continues below advertisement
"Sending love and best wishes to the #vsangels from Japan xxx," Kerr captioned the new photo.
Speculation of a Photoshop scandal is running high among Kerr's 2.6 million followers, because in the photo she just posted on Nov. 12 — even though it's the exact same as the photo she posted a year ago — her waist is much slimmer.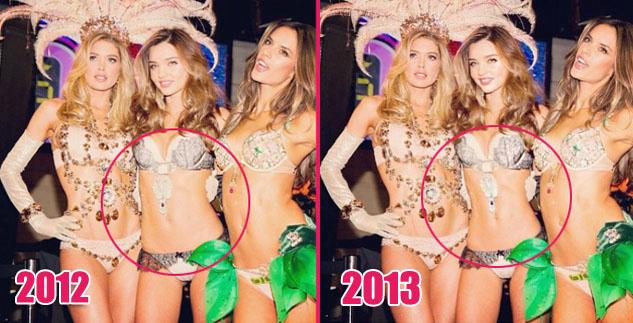 "Are you going to talk about your blatant photoshop?" one commenter asked. "Horrible role model for women. You are the reason girls deal with anorexia trying to achieve the unachievable."
Another commenter chimed in, "Yes she can but she knows she's a role model to a lot of women and young girls. What is this telling them? It's not positive."
In all, Kerr's posting garnered more than 166,120 comments and nearly all of them allege she used Photoshop or some type of photo editing tool on the picture.
Just last month is was confirmed that Kerr and her husband Orlando Bloom had officially separated, leading one commenter to write:
"Lol at her editing. Guess she's just self conscious after Orlando dumped her."
What do you think of the two photos — do you see the difference, and do you think Kerr did it on purpose? Sound off below…