No Food, No Water -- No Problem?!? Michelle Pfeiffer Explains Bizarre Cult That Aimed To Get 'Closer To Nirvana'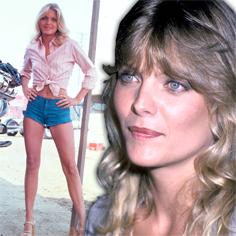 Michelle Pfeiffer is opening up more about Breatharianism, the cult she was in prior to Hollywood superstardom, and the unusual practices they engaged in.
The Dangerous Minds star said the cult was based on a hybrid of mysticism and "a diet that nobody can adhere to" -- substituting the sustenance of food and water for airborne nutrients of sulphur and nitrogen.
Pfeiffer joined the organization in the early 1980s in hopes of losing weight and discovering her spirituality. She said the practitioners were "sort of personal trainers," and that she was "thoroughly brainwashed" by their spiel -- in some instances, gurus preached that "food is more addictive than heroin."
Article continues below advertisement
Early on, they encouraged the nascent Hollywood A-lister to practice fruitarianism (a fruit-only regimen once employed by the late Steve Jobs).
Pfeiffer, who was fleeced her of the money she had at that time, credits her ex, Peter Horton, for distancing her from the organization.
"I was helping him to do research on this cult," she said, "and I realized I was in one."
One noted Breatharianism guru, Wiley Brooks, had a list of two dozen foods his disciples must consume to purify their blood -- most notably, rum & raisin Häagen-Dazs ice-cream.
Seattle native Kendra Wagner, a former member, dished details of the physical sensations she experienced as result of fasting.
"I remember the craving for that intense high you get after about the fifth day of fasting -- it was like a drug," Wagner, 54, told MailOnline.com. "You feel you're floating and above worry, anxiety and the worldly things in life. People got obsessed with it.
"They felt Breatharianism could bring them closer to Nirvana."