Don't Mess With These Hard Bodies! 9 Celebs Who Got Fit Fighting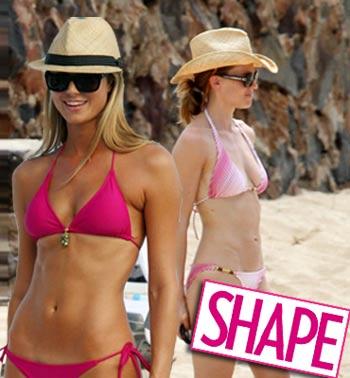 These hot Hollywood stars are not to be messed with!
Killing two birds with one stone, these lean leading ladies and buff big screen hunks got in shape by learning how to fight. SHAPE has all the details about the tough workout trend.
Way before she was dancing with the stars (and romancing George Clooney) 32-year old Stacy Keibler was throwing her hat into the Hollywood ring as a WWE female fighter. Now that her wrestling days are gone (but not forgotten), Keibler's long and lean frame can be attributed to a mix of cross-training, stair-climbing, and kettlebells, as her trainer Juliet Kaska previously revealed to SHAPE.
Article continues below advertisement
Actress Hilary Swank famously got into rip-roaring red-carpet shape while heavily training for her role as a female boxer in 2004's box-office hit Million Dollar Baby. At the time, Swank told a magazine that she put on nearly 20 pounds of muscle for the role of Maggie Fitzgerald by stepping into
the ring for more than 4 hours a day and eating a whopping 4,000 calories.
Who has the best abs in Hollywood? Click here to find out!
Just another reason not to mess with The Queen. While curvy singer/actress Queen Latifah was filming recently in Los Angeles, she turned to 5-time World Kickboxing Champion trainer Kathy Long to help her tone up and slim down, Long tells SHAPE exclusively.
Gorgeous actress, reality star, and mom of three Denise Richards works hard for her enviable figure, turning to California's exclusive SteeleBoxer boxing/kickboxing gym. The exclusive facility has been getting Richards and other actors into shape for TV and movie roles for the past two decades.
Article continues below advertisement
For the 2009 Oscar-winning flick The Fighter, which took a look at the early years of boxer "Irish" Micky Ward, Mark Wahlberg spent four years 'building his boxer bod' with his trainer Brian Nguyen.
"Most great fighters like Mark have the ability to transfer force from the lower body to the upper body. The Rotational Med Ball Slam allows the fighter to not only use the hips and the lower body as it stabilizes ground force, but it helps works the obliques and upper body while delivering a powerful explosive movement as the hips rotate and the ball is thrown to the ground," Nguyen says.
Try these ultimate abs and arms workouts to build your best body ever:
Spunky star of VH1's Mob Wives Drita D'Avanzo has thrown a few punches at fellow cast members -- but when the cameras aren't rolling, the petite makeup artist, who has said she once weighed 200 pounds, is a fitness fanatic who enjoys private lessons at a local Staten Island boxing gym.
"I've been boxing for a few months now and although I pride myself on being physically fit, I have never been in better shape," D'Avanzo sys. "The stamina you need for boxing is incredible. I feel physically more fit than ever!"
When Michelle Pfeiffer was tapped to play Catwoman in the 1992 film Batman Returns, the studio enlisted 5-time World Kickboxing Champion Kathy Long to 'get her in the best shape of her career.' Long spent six months on the set with Pfeiffer, grooming her for the role (and the skintight catsuit).
For more stars who got fit fighting, visit Shape.com by clicking here!