Exclusive
Miami Dolphins Star Jonathan Martin Being Treated For Post-Traumatic Stress Disorder & Depression In Wake Of Richie Incognito Drama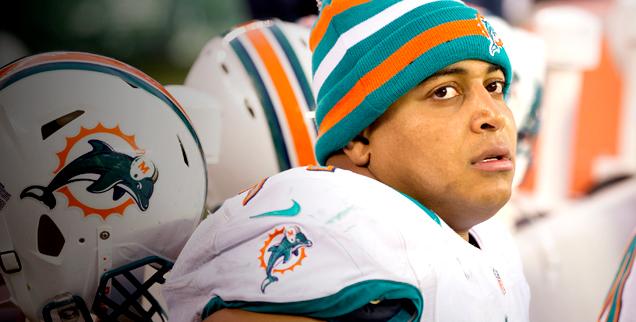 Miami Dolphins offensive tackle Jonathan Martin is being treated for post-traumatic stress disorder and depression amidst allegations that he was threatened, harassed and menaced by teammates, chiefly Richie Incognito, RadarOnline.com has exclusively learned.
Martin, 24, is not expected to report back to the team anytime soon, as he works with specialists in Los Angeles and awaits clearance to return.
Article continues below advertisement
We're now learning exactly what he's being treated for.
"It's depression and PTSD… which is directly related to the bullying he endured by Richie and other teammates," a source close to the situation told Radar.
"Jonathan wants to play football again, but he absolutely can't play for the Miami Dolphins. That said, football isn't the focus right now. It's receiving treatment and moving forward."
The insider said Martin "hates all of the publicity this has gotten," but added that when the time is right, "Jonathan will speak out about what really happened" inside the Dolphins locker room.
As we previously reported, the Dolphins have suspended Incognito while an investigation takes place — a club suspension for conduct detrimental to the team has a maximum of four weeks, per the league's collective bargaining agreement. Incognito could appeal as well.
Last weekend, 30-year-old Incognito sat down with Jay Glazer of FOX in an effort to explain vicious voicemails and text messages he'd left for Martin.
Article continues below advertisement
"This is not an issue about bullying. This is an issue about my and John's relationship. I had Jonathan Martin's back the absolute most," he said, in the interview.
He also claimed that Martin once texted HIM that he was going to kill "my entire family."
It was just the way they communicated, Incognito said.
Meanwhile, the NFL formally asked Dolphins owner, Steve Ross, and the team's CEO, Tom Garfinkel, to postpone their meeting with Martin.
"Ted Wells and the National Football League have asked that we delay our meeting with Jonathan Martin until they have the opportunity to meet with him," Garfinkel said in a statement earlier this week.
"Out of deference to the process, we will cooperate with their request. We look forward to meeting with Jonathan as soon as possible."
Martin is expected to meet with the Ted Wells, the special investigator appointed by NFL Commissioner Roger Goodell in the next few days, a source said.
"Jonathan's lawyer, David Cornwell has been in constant contact with Ted. The NFL has been very supportive of Jonathan and respects that he is dealing with a very serious mental health conditions," the source added.
Martin's lawyer, David Cornwell, didn't immediately respond to multiple requests for comment.