Exclusive
Which Way Is North? Khloe Kardashian Reveals Whether Kim's New Baby Is Like Her Mom Or Dad Kanye -- The Answer Will Surprise You!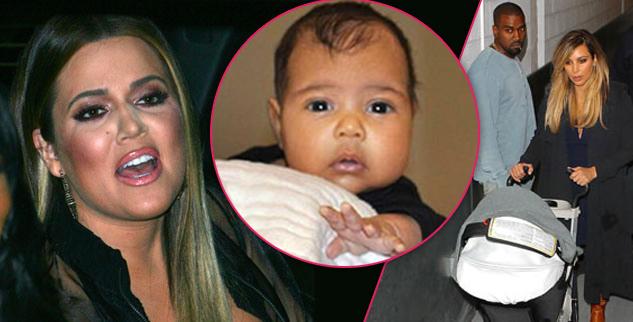 Sugar, spice, and everything nice? North West, the only childof Kim Kardashian and Kanye West, is made of a mix that's more like selfies, bass beats, and everything bling. The world will have to wait a few years to see what kind of personality that translates into, but for now, North's aunt, Khloe Kardashian is giving a glimpse into her infant niece's character, which she says is "mellow," but paradoxically, "very like" her loud-mouthed dad.
Article continues below advertisement
"That baby is so cute!" Khloe gushed on Sydney's Jackie and Kyle O Show on Thursday. "The baby, North, is one of the cutest babies -- besides Kourtney's children Mason and Penelope."
"They're all so adorable," Khloe insisted, "but North has such a sweet, calm, demeanor. She's really mellow and she laughs. I truly never really hear her cry, so they're lucky in that aspect."
Asked by the hosts if that meant North was like her super-sweet mom, Khloe said, "You know what? She's very serious like her daddy. Like, her facial expressions. She will look at you like, 'What are you talking about?!' She just stares at you sometimes, like, 'Come on, I'm way smarter than you are right now, so don't even try to play me!'"
"So … you can tell that she's gonna have both of their personalities," Khloe explained, dissolving into laughter, "which is gonna be very interesting."
In the meantime, the youngest Kardashian revealed, she's more interested in the answer to a different question: Who will Kim and Kanye pick to be the little girl's godparents?
"I actually asked Kim that," Khloe confessed. "She was like, 'We have so many brothers and sisters. I don't know if we need godparents because there's so many of us.' I was like, 'Well, just make me hers! Just give it to me.' I just want that title. So I don't know, but I'm just gonna say that I am, to be the honorary one."