Exclusive
Move Over Beyonce & Jay Z: Kanye West Tells Kim Kardashian, 'We're Going To Be The Biggest Power Couple On The Planet'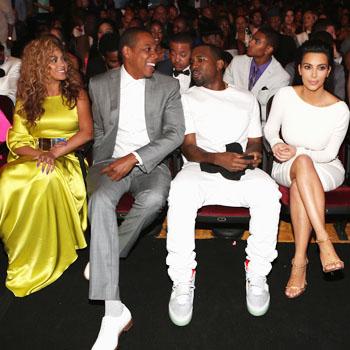 Article continues below advertisement
"He genuinely thinks they will be more popular than his close friends, Jay Z and Beyonce. It's one of the reasons why Kanye told Kim to change her hair color, he thinks it elevated Kim from just being a reality star to an international superstar.
The insider said that mother-of-one Kardashian, 33, is trying to imitate the way 17-time Grammy-winner Beyonce is portrayed in the public domain.
"Beyonce is very selective with how she presents herself in public and social media," the source revealed.
"Kim is now following in Bey's playbook. Kim only releases very limited pictures of North and those are with Kanye's approval. He's orchestrating it all, behind-the-scenes."
As part of Kanye's self-styled makeover, E! star Kardashian has been driving away many of her close friends, RadarOnline.com has learned.
"The usual suspects are always going to be hanging onto Kim, but most of her friends are either distancing themselves from her or being distanced," another pal explained.
Article continues below advertisement
"They're saying that she has become so stuck-up since she started dating Kanye. Now that they're getting married, these once close friends feel like she thinks she's 'too good' to hang out with them."
While Kim has always been über tight with her close-knit family, she used to have girlfriends too. But lamented the source, they're now few and far between!
"Perhaps Kim thinks she's going to be best friends with Beyonce, but she needs to realize they're not friends and never will be!
"Beyonce is in a completely different place than Kim, is in a different star zone and they aren't going to be besties or hang out unless it is with their husbands... or at events."