Harvey Weinstein Brings Out The Big Guns: Enlists Judi Dench's James Bond Character, M, In 'Philomena' Ratings Fight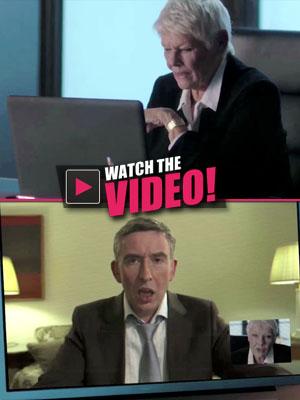 Harvey Weinstein is battling the MPAA again -- this time over an R rating for The Weinstein Co.'s new movie Philomena, which stars Judi Dench and Steve Coogan.
Ahead of the company's Motion Picture Association of America appeal next Wednesday, the movie's star reprises her role as James Bond's boss and dispatches an agent to handle the case.
The purpose? To stop the MPAA from slapping an R-rating on the Oscar winner's new film, Philomena, just because the British comedy drops two f-bombs.
Article continues below advertisement
In the clip, which premiered on Funny Or Die, ominous music plays as the camera closes in on a chair, which spins around to reveal Dench's M, who says, "Just when you thought I was dead."
After a title card in which the "M" in "Philomena" is emphasized, M delivers her assignment.
"I have an important mission for you," she adds, then asks, "Are you familiar with MPAA?"
The full video includes Philomena co-star Coogan as her agent. Watch the video below.
Weinstein recently took his case to CBS This Morning.
"There's two 'F' words in the movie. You're allowed one 'F.' And this is like The King's Speech," the mogul told Charlie Rose. "The movie is the gentlest, wonderful true story filed with humor and joy. And they should just put PG-13 for strong language on this and make it the exception. So it's under appeal."
M.essage to the M.PAA with Judi Dench and Steve Coogan - watch more funny videos