Judi Dench Bringing Bond Character 'M' Back From The Dead In Full Video To Be Released Monday!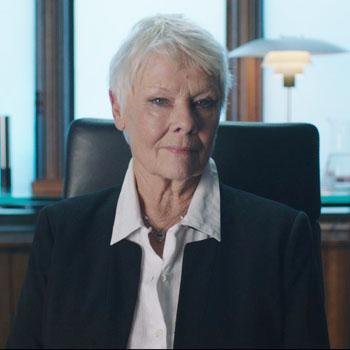 Judi Dench is back as James Bond's boss, M, for a new battle — and in the role of villain this time around, it's the Motion Picture Association of America.
The 78-year-old star resurrected the character in a teaser video that's been released as part of the Weinstein Co.'s appeal to the MPAA to change the rating of Dench's latest movie, Philomena.
Now RadarOnline.com has learned the full video will be released on the website FunnyOrDie on Monday morning.
Article continues below advertisement
Considered a sensation in Britain, where it was rated the equivalent of PG-13, the movie has been given an R in the United States because of two non-sexual uses of the f-word.
According to Harvey Weinstein, "The movie is the gentlest, most wonderful true story, filled with humor and joy. They should just put PG-13 strong language on this and make an exception."
Now, with M and a Special Agent on the case, victory is all but assured (hopefully) in overturning the decision!
"Just when you thought I was dead," Dench says at the start of the short. "I have an important mission for you… are you familiar with MPAA?"
The film open in the US theaters this Thanksgiving.