Shocker! Religious Organization Linked To TV's Duggar Family Selling Violent Toys To Children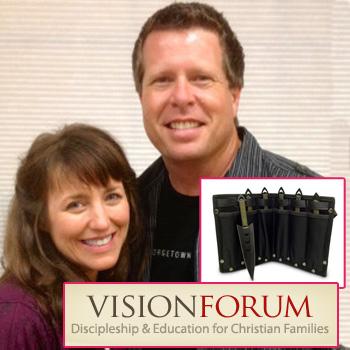 The religious organization that is affiliated with conservatives Michelle and Jim Bob Duggar has suspended their ministry after their leader admitted that he was embroiled in a sexual scandal but RadarOnline.com has learned that the merchandise they are still selling includes seemingly life-like weapons targeted to young children.
Vision Forum Ministries has close ties to the Duggar family,and sells products that tie into their religious beliefs, including how to books and DVDs from Michelle where she shares her spiritual approach to being a mother and a wife.
Article continues below advertisement
"While we believe as strongly as ever in the message of the ministry to the Christian family, we are grieved to find it necessary to make this decision. We believe this to be the best option for the healing of all involved and the only course of action under the circumstances," the group announced after their leader, Doug Phillips, revealed he had cheated on his wife with another woman.
Vision Forum Ministries discontinued their operations but they are still peddling merchandise to the public, including several controversial toys targeted to boys including a 6-piece Throwing Blades set and a First Shot Bow and Arrow Set.
A young boy in camouflage is pictured with the description of the throwing blades: "Strap on this sheath and you're ready for action! Each pack comes with six stainless steel throwing knives for rapid fire target practice. The sheath functions as a holster, with six pockets for your knives, and elastic and Velcro straps to attach round your leg or arm. We recommend supplementing the straps with twine or paracord to ensure a no-slip fit. Each knife is made of a single piece of stainless steel, double-edged, and 6" long with a sharpened point. Handle grips are wrapped in green paracord, and knife exteriors are powder coated black."
Article continues below advertisement
The Duggars, who live in rural Arkansas, have often spoken of their love for the outdoors and hunting, posing with guns in many family photos. Jim Bob previously defended his family's right to bear arms.
"We believe it is important for children to learn safety about guns and knives. To learn how to use them properly and to learn not to use them to hurt others but to use them as a tool. That is one of our constitutional rights."
The bow and arrow set shows a father supervising his son shooting the bow and arrow, with the description reading: "Our First Shot Bow and Arrow set is perfect for your young outdoorsman. Features a durable fiberglass bow with a draw weight of approximately 9.5 pounds. Easy to use with right or left hand. Draw length is 15 inches. Set includes 2 arrows, belt quiver, finger tab, and bow. First Shot Bow and Arrow set is approximately 36 inches in height. Adult supervision advised."
Are these gifts you think are appropriate for young children? Tell us your opinion in comments.