Was Brandi Drumming Up Publicity? LeAnn Rimes' Ex Dean Sheremet 'Never Agreed' To Appear On Housewife's Podcast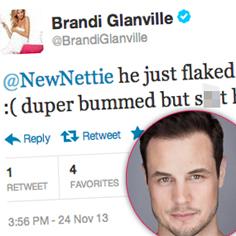 To stir up interest for her podcast show, Brandi Glanville told listeners that she'd be joined by LeAnn Rimes ex-husband for a "can't miss" interview — but this was news to Dean Sheremet, who never agreed to appear on the show, RadarOnline.com has been told.
"Brandi must have been misinformed because Dean was never scheduled to come on the show. He's just too busy," a source close to Sheremet exclusively told RadarOnline.com.
Article continues below advertisement
During her Nov. 5 podcast, Glanville bragged about Sheremet coming on her show – hinting that no topics would be off limits.
"LeAnn Rimes' ex-husband is coming to do the podcast. That will be the first time we'll be in the same room together, and we can talk it out. It's going to be very interesting," she told listeners.
Like Glanville, Sheremet was publicly cuckolded after his wife's 2009 affair with Eddie Cibrian came to light after the two filmed the TV movie Northern Lights. Sheremet subsequently found love with photographer Sarah Silver and the two have been married since 2011.
When Sheremet still hadn't appeared by the Nov. 25 podcast, fans reached out to Glanville on Twitter asking what happened.
The reality star vented to her fans, claiming that he "flaked for the second time."
"I am working around your schedule," she tweeted to Sheremet.
Sources close to Sheremet say he is not pleased with Glanville, believing she would likely use the appearance to continue her mug-slinging with rival Rimes.
"She's just looking for publicity. She knows having Dean on the show would be a goldmine for ratings," the source added.
Sheremet's camp confirmed to RadarOnline.com that he would not be appearing on Glanville's show.
"Dean is not going on Brandi's show," his rep said.