Exclusive
'We Went Wrong With The Casting Of Lindsay Lohan,' Writer Bret Easton Ellis Says Of Why 'The Canyons' Was So Bad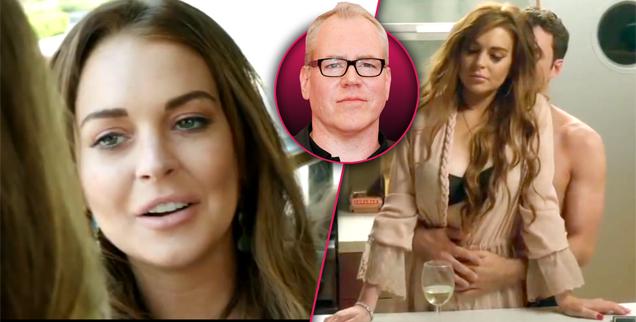 The Canyons didn't fare well with viewers and screenwriter Bret Easton Ellis explains where they went wrong — casting Lindsay Lohan.
It was Lohan's controversial first appearance on the big screen since her release from rehab, but Ellis believes the troubled starlet's reputation clouded the movie and overshadowed everything it was meant to be.
"I think where we went wrong was with the casting of Lindsay Lohan. Now I don't mean she wasn't good in it, she was very good in the movie. I mean that suddenly The Canyons has become the Lindsay Lohan film," Ellis said on Monday during his podcast.
Article continues below advertisement
"And Lindsay's reputation followers her everywhere. And the moment that we casted Lindsay Lohan, the movie became something else. It stopped becoming the DIY movie that could make it into part of the trainwreck of the Lindsay Lohan narrative. And we thought the movie was ultimately going to step out of that shadow, that it was going to speak for itself and that people would be more interested in how we made this movie… But we didn't. We didn't step out of the Lindsay Lohan shadow, and it did affect the way the movie was perceived."
Ellis himself admits that 80 percent of the audience rejected the movie and didn't care for it, while only 20 percent favored it.
"I think the hatred for the movie when it initially came out was so disproportionate to what the movie actually was… I think at a certain point, people were rooting for the movie to fail," he said.
"And I think that's why when the movie was eventually released, people were gleeful about massacring it."
Article continues below advertisement
As RadarOnline.com previously reported, Lohan was the headliner of everything The Canyons from the beginning — including a lot of negative press.
Director Paul Schrader spoke out in July about working with Lohan, calling it challenging, and described the 27-year-old's time on the set as being full of "tardiness, tantrums, absences, neediness, psychodrama."
Lohan's co-star, porn actor James Deen, revealed that Lohan "acted like a child" on the set of the low-budget flick, saying, "There were days when she would scream and yell and cry and refuse to come out."
All of the negative press affected The Canyons chance for a fair review, Ellis claims — but what do you think — was it Lohan's fault the movie failed, or was it just a terrible movie?