Exclusive
Brooke Mueller's Brother Wants $55K In Child Support From Charlie Sheen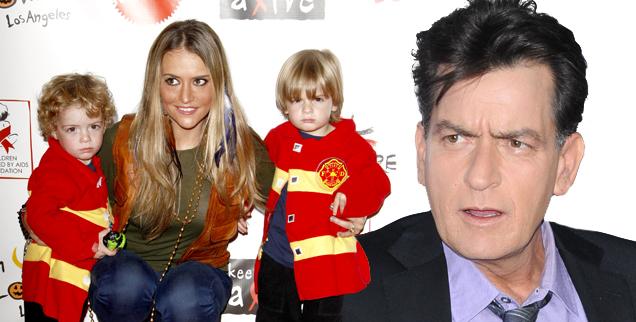 Just moments after being awarded temporary guardianship of sister Brooke Mueller's twins, her brother Scott notified the boys' father Charlie Sheen that he wants $55,000 in child support, RadarOnline.com is reporting exclusively.
"Scott has formally notified Charlie Sheen's lawyer he wants $55,000 in child support because he has been appointed Bob and Max's temporary guardian," a source close to the situation told RadarOnline.com.
Article continues below advertisement
"He expects to be paid, immediately, even though Charlie already pays for all of the boys expenses including their pre-school, doctors visits, etc. During the time that Denise Richards was their guardian, she didn't ask Charlie for one dime in child support, she actually turned it down."
The source added, "Furthermore, Scott has NEVER taken care of the boys for more than 48 hours. He lives in Orange County and has no experience in taking care of kids."
Mueller's child support payments were recently cut in half because she isn't their primary caregiver. If and when she gets full custody of the boys, Sheen will begin to pay her the $55,000 a month.
Scott went to a Los Angeles court on Friday morning — with the blessing of the L.A. County Dept. of Children & Family Services — and was granted custody.
He will get the children tonight, a source has confirmed to RadarOnline.com.
Article continues below advertisement
Scott had supervised visits with the children over summer, we've also learned.
The move followed Sheen's second ex-wife indicating that she could no longer care for the troubled boys because of their "violent" behavior.
RadarOnline.com broke the story: Richards penned a heartbreaking letter to inform DCFS that she no longer felt capable of caring for the boys in her home.
According to Richards, her daughters had been "strangled, kicked in the head and stomach, scratched, bit, slapped, punched in the face and head" and spat on by the boys, as have the family dogs.
After more than 20 stays in rehab — including two while pregnant — and a 5150 psychiatric hold this May after overdosing on crystal meth, Mueller is on track to regain full custody of the twins at some point.
For now, however, they'll be living with Scott.