Exclusive
Simon Monjack Pal Rejects Brittany Murphy Murder Theory: Claims Delusional 'Conjack' Was A Conspiracy Theorist… Who Even Had Fake Passports!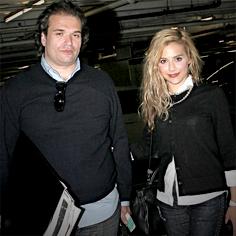 The husband of late actress Brittany Murphy was a "delusional" conspiracy theorist who disappeared after 9/11 and bizarrely later claimed he'd been working as a secret government advisor to then British Prime Minister Tony Blair, a close pal has revealed.
The friend of Simon Monjack, who asked not to be identified but whose relationship with the 39-year-old has been verified, spoke out to RadarOnline.com in the wake of sensational claims which have questioned whether he and Murphy were murdered.
Article continues below advertisement
Murphy, aged 32, died in December 2009 from pneumonia and anemia and her husband died five months later from the same causes.
"It was more likely that Conjack died after years of heavy drug abuse which included heroin… his body would have broken down, based on everything that I eye-witnessed," the source said, referring to the nickname he was given by enemies, 'Simon Conjack'. (Before his death, Monjack responding to the negative publicity that had dogged his life and career, admitting: "I know I have been called a conman. I am not perfect. I never said I was.")
The insider, who fell out with Monjack before his death, described just how absurd his 39-years of life had been, at times.
"He was a hysterical conspiracy theorist who believed among other things that 9/11 was an inside job and that he was constantly being followed by government spies," the source said.
"After the September 11 attacks, he told his family and friends that he was secretly advising Tony Blair on British government defense policy, even though he had no credentials in that field or experience! He even had fake passports with various identities. He was a sociopath who used all this bullish*t in his life to exploit and manipulate others."
Article continues below advertisement
But the dangerous drug breaks down in the body within a few hours, with only minuscule trace amounts remaining in blood after five days and in the hair after 90 days.