Fury Over Fury: New Brad Pitt Movie Panned Following 'Grotesquely Disrespectful & Offensive' Gesture Filming On England's Remembrance Day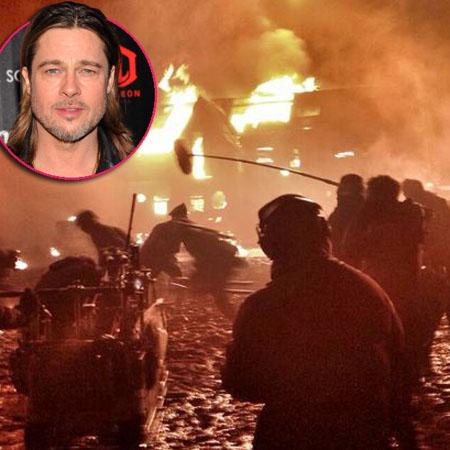 There was controversy brewing on the English set of Brad Pitt's upcoming film Fury this weekend, as producers chose Sunday to film a graphic war scene on Remembrance Day, a day in memory of British soldiers lost in the line of duty.
The fireworks began when director David Ayer led a cast of more than 100 extras -- some dressed in full Nazi regalia -- through a war scene in Shirburn, Oxon at 4 a.m, local time.
Article continues below advertisement
One extra told the Mirror UK, "It's not as if he didn't know that for many of us ­Remembrance Sunday is the most important day of the year. Instead of toasting our ­forebears whose bravery gave us this life we were charging through the countryside dressed as marauding Nazis.
"He just charged on ruthlessly filming a movie about American heroism, not for the first time, and ignoring British ­sensitivities towards Remembrance. This was grotesquely disrespectful and offensive. I can't believe I wore an SS uniform on Remembrance Sunday."
Colonel Richard Kemp, the British commander who led troops through Afghanistan, also called out Ayer for the "grossly ­insensitive" decision to film a scene of that nature on such a day.
"A director whose film is ­profiting from the sacrifices made by 800,000 British and American soldiers in the second World War," he said, "has a duty to ensure his crew are allowed to pause to pay proper respect to the dead."
Overtures to the film's producers to reschedule shooting were ignored, according to the Mirror.
The film, which also stars Shia LaBeouf and Scott Eastwood, is slated to hit theaters next November.