Exclusive
Talk Show Host Bethenny Frankel Slammed By Furious Guest -- She's Fake & Ambushes Guests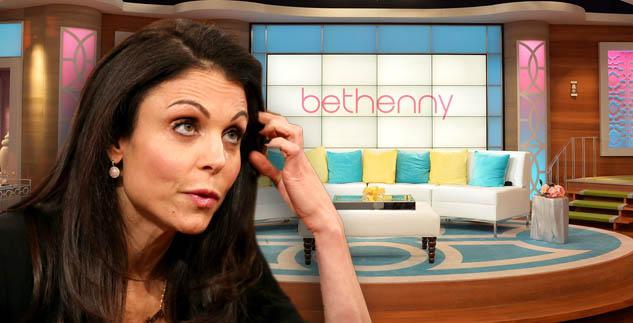 Bethenny Frankel's abrasive attitude toward her guests has finally gone too far with one woman telling RadarOnline.com exclusively about her terrible experience on the show and how "fake" she believes the host actually is.
Ariella founded the controversial website ShesAHomewrecker.com and has been doing a national media tour about her site, but she said her appearance on Bethenny was the worst by far.
Article continues below advertisement
"I realized things were a little strange when they came in and attempted to prep me for the show. Perhaps prep is not the right word – it was more me getting my lines down. The producer wanted to practice my answers. I was confused, because considering this was my business, how were they to know what was the "right or wrong" answer for MY business?"
Her website states they are "exposing everyone from the Hollywood Homewrecker to the average white picket fence destroying women who just can't seem to let go of your husbands and boyfriends," and she brought two wives who were cheated on to talk about their experience, but she said they never got a chance to explain their side and were just attacked by Bethenny.
As RadarOnline.com has previously reported, Back Door Teen Mom star Farrah Abraham also accused the talk show host of being fake, which is exactly what Ariella says Bethenny is too.
"The issue was not that she was rude, in my opinion I would classify it as Fake -not only the host, but most of the staff," Ariella said.
"The way the show was pitched to us to come on was not the way the show went down. It was actually so far from what they stated when we agreed to appear. I would have NEVER ok'd the wives to go on the show if the intention was for them to be ambushed. The producers informed me (due to I had never heard of her show, wasn't familiar with it, and was quite apprehensive) that this would be our opportunity to share what my site stands for and the wives to discuss their betrayal and their relationship after the betrayal."
Article continues below advertisement
Ariella told RadarOnline.com that Bethenny pulled a Jekyll and Hyde – acting one way while the cameras were rolling and another when they were off.
"She assisted in the crowd with the ambush on the wives, but during commercial breaks she came to the couch and thanked us for being there, and she stated to the wives 'The truth is, no one knows what you are going through and after such a long marriage I can't imagine, I have never been through it.'
"As soon as the cameras were rolling she was loudly asking the wives 'Isn't it your husband's responsibility to keep his penis in his pants?' It was ridiculous. She was so caring off camera during commercial breaks but she was rude to the wives while the cameras were rolling. I was just like, this isn't a talk show, this is a staged show."
The icing on the cake of her bad experience was when she was unceremoniously tossed out of the studio.
Article continues below advertisement
"After the taping as we were escorted out and booed by the crowd, I was trying to speak with the wives but a woman from the control room and the producer I was in constant contact with were attempting to prevent me from speaking with the wives. I was completely calm, however, the producers somehow felt very intimidated by my presence and attempted to usher me out of the studio.
"I was rushed and questioned the woman if she was intimidated by me and asked her what her problem was. At the end of the day, these are the women that utilized my website and I had every right to speak with them. They wanted to speak with me as well. I was then told by the woman who worked in the control room that the reason I had to leave that moment was due to money and the car was waiting.
"Not a way to treat a guest after they appeared on your show if you asked me. But at the end of the day, what would you expect from a trashy talk show that is the equivalent of Jerry Springer, minus the fighting scene -same concept? At that point for them it was about damage control. They then wanted the wives to tell their story in a confessional so they can add it to their website -that was something that was not presented prior to the show. I was not physically escorted out by security but security did join me in the elevator and to the door. I was completely calm, NEVER once raised my voice nor was I utilizing any foul language. It was ridiculous if you ask me and very uncalled for. I had no idea that guests were rushed out immediately after the interview. I have done several the past few weeks, and I have never been rushed out after the interview.
Ariella told RadarOnline.com that she believes Bethenny is "desperate for ratings."
"She is in fear that her show is going to be cancelled so she is fake and sold herself out. I mean, I don't know how she is in real life, but on that show she was disgusting.
Ariella said her wives were very upset too. "They lied to us and told us we were going to give wives who were betrayed a voice, and they wouldn't even let us speak."