Anne Hathaway's Brother Lets Slip — She's Pregnant!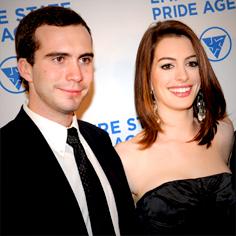 Anne Hathaway is ready to take on her biggest role yet: mother.
According to a new report in Star magazine, the actress' brother accidentally let the baby bombshell slip while performing a comedy routine at the Tandem Bar and Restaurant in Brooklyn, New York, on Oct. 30.
Tom Hathaway revealed that his famous sibling is expecting her first child with her husband Adam Shulman.
"Tom opened his act by talking about Anne's personal life," an audience member dished to Star, on newsstands now.
Article continues below advertisement
"He said, 'My sister got married last year, and now she is about to be a new mom!' I don't think he realized what he had done."
Despite the slip, The Les Miserables actress and her family aren't fazed by the early announcement.
"Anne is over the moon and Adam is extremely giddy. She's been wanting to get pregnant for a while but knew that she needed to wait for the right time. They are more than ready for this next chapter in their lives," said the family friend.
Anne sparked pregnancy rumors in October when she wore baggy clothing while decorating her house for Halloween on Oct. 27.
The brunette star, who is currently filming Interstellar, due out next year, has cleared her schedule to make time for the baby.
"She's filming now," added the pal, "but hasn't lined up any major future projects. She and Adam want to put all their time and energy into the baby."
To find out all the details, pick up the latest issue of Star magazine on newsstands everywhere Thursday.