Exclusive
You Talkin' To Me? Ireland Baldwin Advises 'Think Before You Speak' While Hilaria Baldwin Continues To Defend Alec Baldwin For His 'Abusive' Tirades Against Media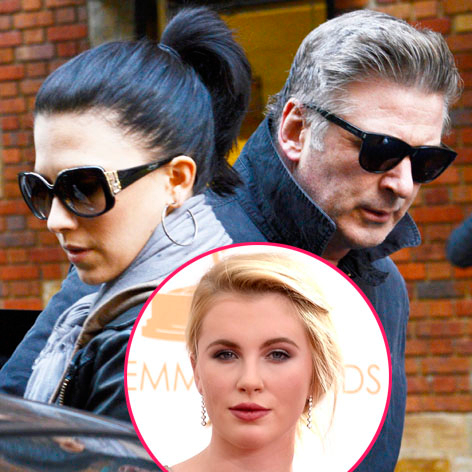 Alec Baldwin may have issued a public apology for the "offensive and unacceptable" language" he used against the media on Friday but that isn't stopping his family from continuing to speak out.
"The news shows what is convenient for their story. They didn't show when she approached me with my baby after I asked her politely not to. Trust me, when you ask someone to leave you alone, and they follow you, and encroach on your space, that feels threatening," Hilaria Baldwin tweeted Saturday afternoon.
Article continues below advertisement
But one of her followers pointed out that there was nothing to show "because it didn't happen!"
Hilaria's rant was against Fox reporter Linda Schmidt, who was seen approaching Hilaria when she was NOT carrying her baby and was on a public street, to ask her a question.
Hilaria is later seen and heard on video telling Alec that Schmidt had "almost" hit her with her microphone, which led to the former 30 Rock star accusing Schmidt of "assaulting" his wife, ordering the reporter to "apologize" to Hilaria and demanding the cops arrest her for assault. They didn't.
This was on top of Alec being heard calling one reporter a "c**ksucker" -- which he later acknowledged, although he insisted he didn't know the term was considered a gay slur -- and telling another to "go f**k" himself and asking another if he was "as dumb as you look."
It may have all been just a little too much for Baldwin's daughter, Ireland. "THINK BEFORE YOU SPEAK," she wrote in all caps Friday night, which several of her followers assumed was a non-too-subtle message to her father.