Alec Baldwin's 'Stalker' Dreamed Of Becoming 'Another Famous Baldwin' -- Read Her Disturbing Emails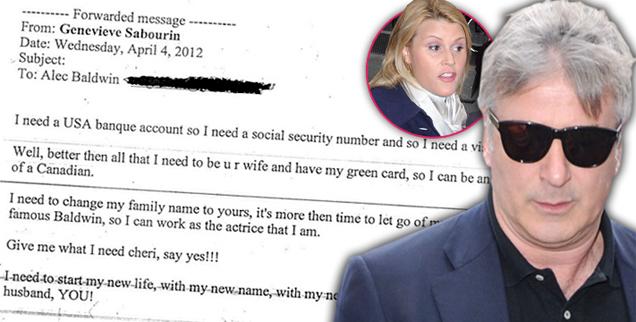 The blonde French-Canadian woman accused of stalking Alec Baldwin asked the Hollywood star to accept a "simple proposal from my heart" and make her "Genevieve Baldwin," disturbing emails released by Manhattan District Attorney's Office have revealed.
Genevieve Sabourin -- jailed for 30 days on contempt of court charges on Wednesday -- wrote at least four missives to the 30 Rock star between March 20 and April 7, last year.
Article continues below advertisement
"I need a USA banque (sic) account so I need a social security number and so I need a visa," Sabourin, 41, wrote in an email on April 4 last year.
"Well, better then all that I need to be u r (sic) wife and have my green card, so I can be an American instead of a Canadian."
She added, "I need to change my family name to yours, it's more then time to let go of my past and become another famous Baldwin, so I can work as the actrrice (sic) that I am.
"Give me what I need cheri, say yes!!
"I need to start my new life, with my new name, with my new career in my country help my newly husband, YOU!"
Read the four emails released by prosecutors here.
On March 20, Sabourin wrote to father-of-two Baldwin: "Will you accept this simple proposal from my heart?? Let's began together the best part of our life right here and today. I know you want it, I know you need it. Please, answer me."
Article continues below advertisement
Two weeks later, she wrote:
"I'm existed (sic) about the portion of the process, creating Genevieve Baldwin and get all of what I want is the best part. I need it now!"
In another email, she also wrote that when Baldwin got engaged last year, it was "painful for me - I just died."
On Monday, 55-year-old Baldwin told the Manhattan Criminal Court that he never had a romantic relationship with Sabourin, to which she interrupted him multiple times, yelling "Really?" and "He's lying to you."
Sabourin -- charged with harassment and stalking -- was arrested outside Baldwin's East 10th Street penthouse in April 2012.
The pair had met in 2002 while filming "The Adventures of Pluto Nash," where she was a publicist and Baldwin had a small role.