Alec Baldwin's Accused Stalker Says She Has Intimate Knowledge Of His Body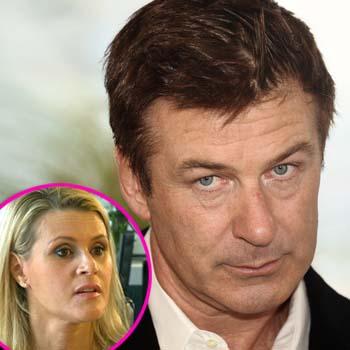 The 40-year-old Canadian actress accused of stalking and harassing Alec Baldwin tells ET Canada she's not crazy, that she actually felt the 30 Rock star truly loved her, and that she knows intimate details about his body.
"It was love, for me it was love," Genevieve Sabourin, who was arrested in April outside of Baldwin's New York City home, told the show. "I felt it. I don't think it could be a one-way thing."
Article continues below advertisement
Sabourin said she only showed up at Baldwin's home wanting closure in the romantic situation.
"I'm not crazy, I'm not a stalker, and this is actually what the psychiatrist's report said -- that I don't qualify as a stalker," Sabourin said in her defense. "How come I have his cell phone number?
"How come I know he's got a scar, right here, on his bikini line that is round like this, that you've never seen in pictures?" asked Sabourin, who reportedly was telling others she and The Marrying Man star had made love in the past.
Sabourin said she had Facebook emails that essentially proved their relationship, but lost them in a moment of passion.
"When I saw that he had begun seeing someone else, I decided to cancel our friendship on Facebook, and because of that I lost the entire content of our conversations," Sabourin said.
Baldwin has admitted to a 2010 meeting with Sabourin on professional terms, but said he was inundated with unwanted communications via emails and in-person visits thereafter. Her attorney has tried unsuccessfully to get the case thrown out of Manhattan Criminal Court, though Baldwin is reportedly open to an out-of-court settlement to avoid a trial.
Article continues below advertisement
The New York native, 54, tied the knot with yoga instructor Hilaria Thomas, 28, earlier this year.
According to Sabourin's iMDb page, she worked with Baldwin on the 2002 film The Adventures of Pluto Nash; he had a small role in the movie, while she worked in its' public relations department. She also appeared in 2002's Swindle and 2004's Eternal. Her last acting work came in 2007, the website reported.