A Hunger For Her Limelight? Zoe Kravitz Envious Of Jennifer Lawrence's Success, Insider Says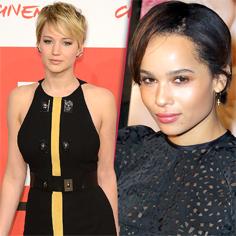 Zoe Kravitz has grown jealous of her ex-pal Jennifer Lawrence's massive success, hoping to surpass her one-time X-Men First Class co-star in success, when The Hunger Games series runs its' course.
Kravitz, 24, believes that once the series wraps up, "she can compete with Jen on a more-level playing field," a source said, as "Zoe has had trouble getting her career up to Jen's pace.
"She's tired of being in Jen's shadow," an insider told RadarOnline.com, noting that the two were besties until Oscar-winner raised an eyebrow toward Zoe's relationship with Michael Fassbender, causing "a weird wedge."
MORE ON:
Jennifer Lawrence
Article continues below advertisement
Adding to the tension was the credibility boost J-Law, 23, got with Zoe's father Lenny as Jen's style mentor in the smash film.
"And Lenny being so dedicated to that franchise isn't helping anybody," the source said.