Exclusive
They're Baaaacck! Teresa Giudice & Melissa Gorga Ink Deals To Return To RHONJ... As Three New Housewives Join Cast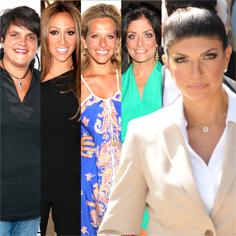 Get ready for another season of Jersey-style drama!
RadarOnline.com has learned who's in and who's out for the sixth season of the ratings-challenged Real Housewives of New Jersey franchise -- plus the three new additions of who will be joining the cast!
Teresa Giudice has inked her contract with Bravo in a deal that confirms her as the second highest paid Housewife at Bravo, a source close to the production reveals.
Article continues below advertisement
"There were basically no negotiations at all," the insider said.
"Teresa was desperate to keep money coming in and so she took the first thing that was offered to her."
There wouldn't be drama without her sister-in-law Melissa Gorga, who has also confirmed that she's coming back for her fourth season.
Leaving? Jacqueline Laurita and Caroline Manzo are out, while Kathy Wakile has been demoted to a part-time role.
"The financial terms of her contract have been drastically reduced," added the source, noting that there will be one windfall for the family -- her fan-favorite sister Rosie Pierri will finally get paid to appear on the show.
So with the wholesale changes in the works, who's coming in?
Two new additions will be twin sisters Nicole and Teresa Napolitano, according to AllThingsRH.com, while another report has suggested their friend, Amber Marchese, will also join the cast.
Article continues below advertisement
"The show got really dark," an insider explained to In Touch. "They needed to bring in new faces to get back to some of the lighter drama that everyone loves from the Real Housewives franchise."
GALLERY: The Giudice's 30 Most Shocking Quotes About Fraud & Finances
Production will begin in a few weeks, a source confirmed to Radar.
"Dina Manzo's Project Ladybug event in early November is going to be filmed for the show," the production spy added.
"The producers want to get all of the drama surrounding her return in right away and they're expecting major fireworks at that event."
Will you watch next season of The Real Housewives of New Jersey? Tell us in comments.