'Teen Mom' Mackenzie Douthit Is Risking Her Life For Second Baby: 'I'm Very Scared,' She Reveals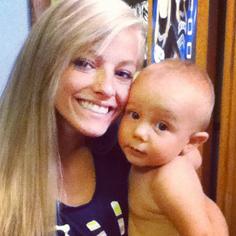 Against the advice of doctors, Teen Mom 3 star Mackenzie Douthit is preparing to become a mom for the second time — a pregnancy that could endanger her own life.
The reality star, who is expecting a daughter with husband Josh McKee, is a type 1 diabetic, which means she could slip into a coma during labor, RadarOnline.com is reporting.
"My blood sugar could get so low that I pass out — and won't wake up," Douthit, 19, told Life & Style magazine.
Article continues below advertisement
Although doctors warned her against becoming pregnant again, Douthit – who is six months along -- is willing to make the ultimate sacrifice to have another child.
"I'm very scared. My doctors didn't want me to go through this again, but really if you look at it in the long run, it's way better to have kids young while my body's still somewhat healthier than waiting until I was older," the mother of son Gannon, 2, explains.
With help from her husband, she's carefully monitoring her blood sugar levels and eating right.
"If everything ends up going well, this baby will be a miracle," she says.
"My biggest thing is trusting in God. I think He's gong to take good care of me."