Exclusive
'Teen Mom 3' Star Mackenzie Douthit's Pregnancy Medical Scare: Throwing Up & Blood Sugar Bottoms Out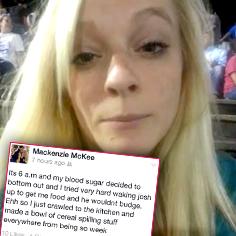 Pregnant Mackenzie Douthit was experiencing some very scary health problems on Monday and RadarOnline.com has exclusive details about her medical concerns.
The Teen Mom 3 star is expecting her second child but she found herself in a frightening position with no one to help her early Monday morning.
"It's 6 am and my blood sugar decided to bottom out and I tried very hard waking josh up to get me food and he wouldn't budge," the MTV star wrote on her Facebook page.
Article continues below advertisement
Struggling without the aid of her husband, Josh McKee, she managed to drag herself to food, writing: "Ehh so I just crawled to the kitchen and made a bowl of cereal spilling stuff everywhere from being so week (sic)."
Mackenize has had a difficult pregnancy, entering the hospital just 10 days before she married Josh, writing about the "great life of a brittle diabetic."
On Monday afternoon she Tweeted about another sickness, writing: "Home alone and just threw up everywhere. What the???"
A source close to MacKenzie, who has a young son named Gannon, told RadarOnline.com that she is doing better.
"She is fine now. She just needs to make sure she keeps her blood sugar up."