Teen Mom 3 Lockup! Briana DeJesus' Baby Daddy Devoin Austin Back In Jail With NO Bail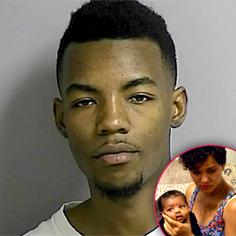 Trouble always seems to find anyone involved in the controversial MTV series Teen Mom and RadarOnline.com has exclusively learned that Teen Mom 3 star Briana DeJesus' baby daddy is back in jail again, and this time he is being held without bail.
Devoin Austin II was arrested on September 24 for a probation violation and he is still locked up in the Osceola County, Florida jail a spokesperson confirmed.
Article continues below advertisement
This is the third arrest this year for Austin, who is incarcerated for a probation violation and has been in jail for a week.
The jail spokesperson told RadarOnline.com that he is denied bail currently for the probation violation.
His baby mama wrote about his lockup, Tweeting: "Gonna send Devoin a picture of Nova...hope he'll sit there for how ever long he's doing time for and reevaluate his life w/ that photo!"
Austin was previously arrested over Labor Day weekend for possession of drugs, possession of drug paraphernalia, burglarizing and contributing to the delinquency of a minor and was held on a $5,000 bond.
As RadarOnline.com exclusively reported, Austin was busted on March 21 for possession of marijuana under 20 grams and plead guilty to the charge, receiving one year of county supervised probation and one day in jail.
Do you think being on Teen Mom is a curse? Tell us in comments.