Exclusive
Fasten Your Seatbelts! Hollywood Hunk Ryan Reynolds Stuns Passengers During Recent Flight -- Strips Down SEMI-NAKED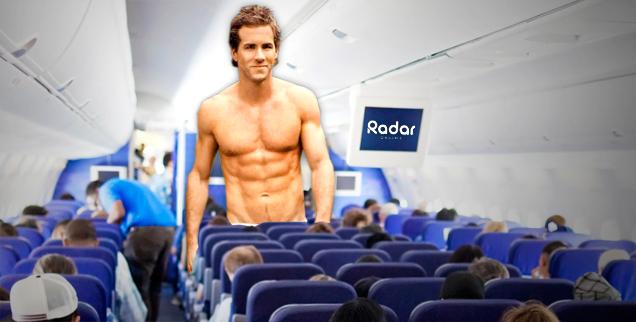 Travelers on a recent flight from NYC to New Orleans got a little extra in-flight entertainment when A-list hunk Ryan Reynolds stripped down in front of everyone! The peep show, however, was not at all planned: RadarOnline.com has learned that Reynolds had to remove his top after another passenger puked all over him!
Reynolds and his wife Blake Lively were flying on Delta Flight #1715 at 7 p.m. on Sunday, October 13, from New York's Laguardia Airport to New Orleans, an eyewitness tells Radar, where Reynolds will be filming a new movie, Selfless with Sir Ben Kingsley.
Article continues below advertisement
Reynolds was seated in seat 2D at the window, and according to the eyewitness, "About two-thirds of the way into the flight, a young lady in front of him in 1D vomited toward her window, which then spewed back all over Ryan's beige cashmere sweater. She had clearly had too much to drink, causing her to be sick."
"The vomit looked like it was largely made up of red wine, and it made a huge stain on Ryan's sweater," says the source. "So he took it off!"
"The flight attendants were doing the best they could with giving him napkins," the source says. But according to another eyewitness, they were seen giggling amongst themselves after the incident had taken place.
Reynolds managed to find a cleaner top, and upon landing, he and Lively were the first to be whisked off the plane by a member of airport security in New Orleans.
"They tried to pretend like nothing happened," the source explains. "The vomiting was quiet, and I think they were all going to try to just hide what happened, but the smell was rancid! Also, you couldn't help but notice Ryan taking off his shirt!"