Rebel Wilson Is Proud Of Her Curves! 'There Are So Many Glamorous Actresses — But In The Real World, Nobody Looks Like That!'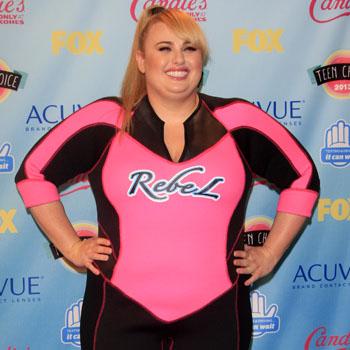 Rebel Wilson is one of the hottest actresses in Hollywood and her witty sense of humor have her fans cracking up but it's her weight that she thinks helps her stand out in a sea of beautiful women.
"I think most girls who are encouraged to come to LA and become actresses are usually the prettiest girls in their hometown of Iowa or wherever," the 27-year-old Aussie comedian says about what makes her stand out.
Article continues below advertisement
"So not looking like anyone else has made things easier for me, because I'm distinctive," she told In Touch magazine.
The Super Fun Friday night star said that she is the type of girl most people can identify with, not the uber skinny Hollywood stars.
"There are so many glamorous actresses – but in the real world, nobody looks like that."
Rebel says that she is hoping that her own confidence in her body and for her character can help other people.
"I want to inspire girls who don't think they're cool or pretty. To do that, I need to put out a realistic version of what it's like to be a girl who looks like me. Sometimes that means getting broken up with by a dude who says, 'You're too fat.' That way, when my character wins, it's gratifying."