Rebel Wilson's Weight Wars: Diet Companies Battling To Sign Her As Spokesperson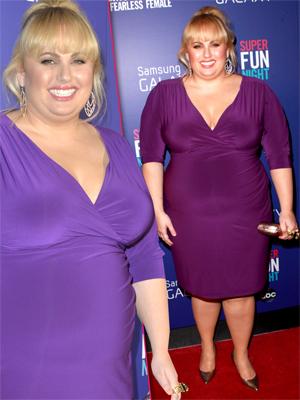 Bigger is better for Rebel Wilson. Not only has the Super Fun Night star made a career for herself as a plus-size comedienne; but now, she could be set to rake in millions as a diet company spokesperson! RadarOnline.com has learned that Wilson is set to follow in the footsteps of Weight Watchers front woman Jessica Simpson and Jenny Craig's Jennifer Hudson as the diet companies battle to sign her up to slim down.
Article continues below advertisement
"Rebel is asking for a fortune, but still looking at all the offers and is not ready to rule it out yet," an insider reveals.
Viewers could get a front-row seat to her slim down on her ABC series, but the source says she's not going to sign any deals simply to look skinnier on-screen -- or anywhere else, for that matter.
"Rebel would be doing this strictly for the money," the source says. "She's built a comic persona out of being heavy and nobody in her world or at ABC is pressuring her to lose weight. It would only be for the cash and the exposure."
In fact, it wouldn't be the first time she's dieted for dough. In 2012, Wilson was the spokesperson for Jenny Craig Australia, and penned a blog detailing her efforts to lose 55 pounds. Her campaign ended in February, after she lost more than 30 pounds and moved to L.A.
A rep for Jenny Craig Australia confirmed to RadarOnline.com that Wilson is not yet under contract for Jenny Craig US, and has never been in the past.