Exclusive
Nadya 'Octo-Mom' Suleman Goes Into Business With Rehab Owner, Desperate For Money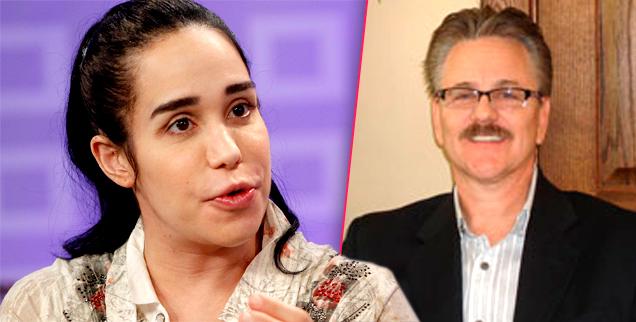 Nadya "Octo-Mom" Suleman has been plagues with financial woes for years while trying to raise her 14 children and now RadarOnline.com has exclusively learned the single mother has entered into business with a rehab owner.
Suleman, 38, registered the company, Octomom LLC, with the California Secretary of State on March 29, 2013 and named Chapman House rehab owner Timothy Chapman as a serving member, but it's unclear exactly what kind of business it is.
Article continues below advertisement
Ironically, Suleman registered the business before defaulting on the rent of her Palmdale, Calif. house in April and sneaking out with her children in the middle of the night, leaving the home in complete squalor.
After leaving the Palmdale home, Suleman admitted in a May 2013 radio interview with KNOC in Orange County that she was living in a former sober house with her children, owned by Chapman.
"Nadya has never been able to financially support her children and she's tried every avenue," an insider told RadarOnline.com.
"Right now she sees Tim as her guardian angel. He gave them a roof over their heads and has clearly entered into some sort of business relationship with her."
As RadarOnline.com exclusively revealed in April, Suleman collected welfare while pocketing more money than allowed.
Investigators for the Los Angeles County Department of Welfare Fraud Prevention and Investigation (WFP&I) uncovered that Suleman earned much more than allowable for her to legitimately collect welfare for herself and her brood, pocketing $119,000 in a calendar year.
But financial records from former employers, including Wicked Pictures, the porn company behind Octo-Mom: Home Alone, were examined by WFP&I and revealed the single mom took in at least $150,248.77 in 2012.