Grieving Dad Adrian Peterson: 'Heaven Has The Baddest Welcoming Party For My Son'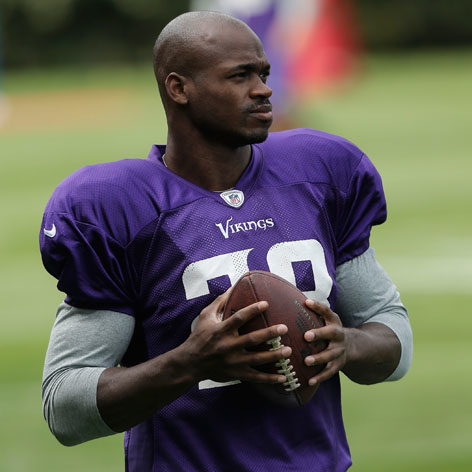 Adrian Peterson took the field with his Minnesota Vikings on Sunday, just two days after the tragic death of his two-year-old son.
"You may ask why? God wants good to come from it ... We mourn and grieve but heaven has the baddest welcoming party for my son. That knowledge gives me peace," the NFL MVP wrote in a text to Fox Sports sideline reporter Laura Okmin.
"I'm still hurt and feel the pain of life, but I'm able to function because of the peace and joy of knowing my loved ones are in a much better place."
Article continues below advertisement
Peterson also pointed out that he played following the death of a brother several years ago.
In fact, his has been a life filled with tragedy. When he was just seven, he witnessed his older brother being hit and killed while riding his bicycle.
The night before he participated in the 2007 NFL "combine," an event where the top draft candidates work out in front of all the pro teams' scouts and coaches, his half-brother, Chris Paris, was murdered. His father was sent to prison for six years on a drug dealing conviction when Peterson was 13.
MORE ON:
Celebrity Justice
Somehow that all hasn't soured Peterson, who carries the nickname Purple Jesus. He's known for his strong faith and for his work with poor children.
He took the field for Sunday's match up against the Carolina Panthers two hours before game time, to a roar from fans who had showed up early just to greet him.
As RadarOnline.com reported, Peterson only learned recently that he had a son by a woman with whom he'd had a brief affair. He'd not yet met the boy when he learned Thursday the child was in the hospital and on life support.
The boy was allegedly beaten by the mother's new boyfriend, Joseph Patterson, who was home alone with the child when he called 911 saying the boy was "choking."
Medical and law enforcement personnel quickly determined the boy had been beaten. He was on life support for about 24 hours prior to his death.
Patterson was charged with assault on a child prior to the boy's death. New charges subsequent to the child's death are expected to be added on Monday.