Exclusive
White House Crasher Michaele Salahi To Wed Journey Rocker Neal Schon: It's A Dream Come True & It's Going To Be BIG!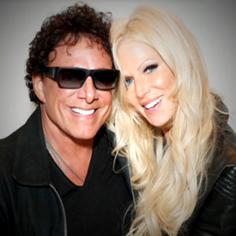 Article continues below advertisement
"My dress is ready!" Michaele excitedly told RadarOnline.com.
"Neal is my love, my joy, my light and the passion of my life. I love him with all that I am. This is a dream come true!"
Michaele and Schon will wed on Dec. 15 in San Francisco at the Palace of Fine Arts, and she tells RadarOnline.com it will be a big event, surrounded by plenty of family and friends.
"The wedding will be big, with all the people we love! Our families and friends will get to be there and we are thankful after all these years to be saying 'I Do' to our soulmate," Michaele told RadarOnline.com.
"We share every day together and are the happiest we have ever been in our lives! Our love is a real and longtime romance."
Schon is equally as excited about the nuptials, telling RadarOnline.com, "It's like a fairy tale. It is, it really is.
"I'm very happy...very happy after waiting for her for over 17 years. We are both where we always wanted to be!"
And Michaele credits her stint on the Bravo Housewives franchise for giving her the strength to be where she is today.
"Being on The Real Housewives was a blessing for me to go through," she said.
"The show experience gave me the strength to follow my heart to be where I always wanted to be, in Neal's arms!"
After leaving Tareq in 2011 he appeared on the Today show saying it wasn't a publicity stunt and even slammed his soon-to-be ex saying, "I didn't know Michaele had a double life: I had no idea."
They finalized their divorce in August 2012.