Exclusive
'Greedy' Jermaine And Randy Jackson Pressuring Mother Katherine To Appeal MJ Wrongful Death Verdict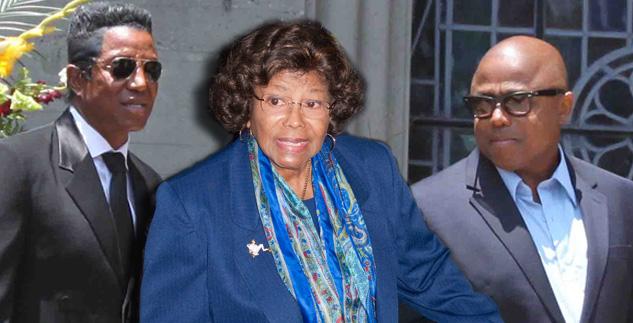 Katherine Jackson is being pressured by her "greedy" sons Jermaine and Randy to appeal the decision by the jury in their brother's billion dollar wrongful death case, RadarOnline.com has been told.
The jurors determined death doctor Conrad Murray was competent when he was hired and there was no reason for concert promoter AEG -- the promoter of MJ's doomed "This Is It" comeback concerts -- to think he would start employing surgery-style anesthesiology.
Article continues below advertisement
Despite the verdict in the five-month trial, Katherine has indicated to her lead trial lawyer Brian Panish that she supports his research into an possible appeal.
More vocal behind-the-scenes are two of her nine living children.
READ: MJ's Secret Diary Bares Desire To Be 'Immortalized' & 'The Greatest Ever'
"Randy and Jermaine were stunned and shellshocked… they had been counting on the jury ruling in their favor and were ready for Katherine to divide any financial judgment between all of her children," a family insider revealed to RadarOnline.com.
"Randy in particular feels that the judge made numerous errors in the trial and that there are significant grounds for an appeal."
Though the family matriarch is "exhausted from the entire situation," according to our source, Panish has said she is not yet prepared to throw in the towel.
"She feels that the jurors ended the trial really liking Michael," he said last week, confirming that Katherine was inside the judge's locked courtroom when both sides spoke with the six men and six women immediately after their verdict was read.
Article continues below advertisement
"One question asked of the jury was, 'What was your impression of Michael?' And they said it was way better after hearing what a great father he was and how much he did for humanity," Panish added.
"They understood he struggled but that he really did his best."
In the lawsuit, Jackson's 83-year-old mother and three children — Prince Michael, Paris and Blanket — had argued that AEG was to blame for their son and father's death because it was negligent in the hiring and supervision of Murray, who gave Jackson a fatal dose of the anesthetic proposal.
However, AEG successfully argued that Jackson had a history of abusing drugs, including the anesthetic that killed him.
Despite the courtroom result, Randy and Jermaine -- who were both left out of Michael's will -- are "still pushing Katherine," the source added.
"All they want is money. They're greedy. They tell Katherine they need answers about Michael's death. Are they living in a cave because a jury found Murray guilty of involuntary manslaughter death of Michael and the jury in the civil trial found AEG had no role in his death.
Charged one source: "The lengths they will go to is sad."
Said another, "The fact that Michael's children will also not be getting any money from the trial is actually a blessing.
"Their father left them as sole heirs of his estate, along with Katherine. They will have more than enough money to live a life and not ever worry about financial woes.
"Imagine if they had been given over a billion dollars? It would have been split, but the leeches and money mongers would have come out of the woodwork. The kids already have to deal with people after them for their money, it would have only added to their stress."