'Keeping Up With The Kardashians' Crew Filming Kris Jenner Involved In Car Crash With Paparazzi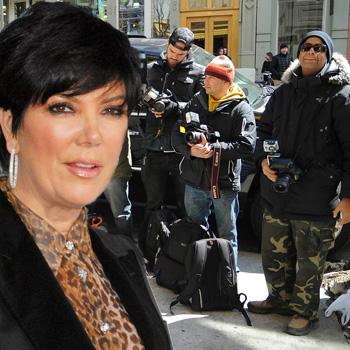 Kardashian car crash! Things keep getting worse for Kris Jenner , who was trying to film her reality show when one of her crew members was involved in a car accident with a paparazzi x and the photographer was rushed to the hospital.
The crash happened in the Los Angeles suburb Encino where Kris was filming Keeping Up with the Kardashians at the Aroma Café. According to paparazzi agency X17online.com the crew was following the family when the collision occurred.
Article continues below advertisement
The police were called to the scene and the paparazzo was transported to a local hospital. Photographs of the incident show a silver mini-van and a black SUV smashed into each other.
On the recent episode of KUWTK Khloe Kardashian compared the pap chases her sister Kim Kardashian endures to Princess Diana , saying that she would wind up in a horrific accident like the late princess.
Stay with RadarOnline.com for updates on the story.