The Paparazzi Chase Is Too Aggressive! Kim Kardashian Compared To Princess Diana On KUWTK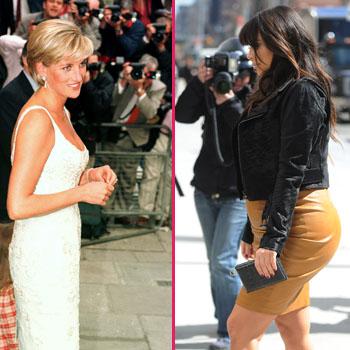 Article continues below advertisement
"It's like Princess Diana, how aggressive they were with her," Khloe says about her sister being followed by the photogs.
The princess was in the back seat of the car with Dodi Fayed and Henri Paul was driving when all three were killed after the Mercedes hit a wall in the French tunnel.
Kim did tell her sister that she isn't quite in the same situation, saying: "I'm not Princess Diana," but her other sister, Kourtney Kardashian, warned her that the attention would increase as she went to the hospital to deliver her daughter, North West.
Khloe says they have it covered, revealing: "She's going to have an escape plan together."
While her baby daddy Kanye West has had multiple run-ins with the paparazzi, Kim has had a mostly positive relationship with photographers, but after a scary incident while in the car with her friend Jonathan Cheban, when the photographers took over her driveway, Kim told the cameras, "I'm in the line of fire."
Later, she admitted, "It's not safe. I have to come up with a plan."