Exclusive
Kris Humphries' Ex Myla Sinanaj Taunts Kim Kardashian With Sexy Twitpic: THIS Is How You Take A Selfie, Kim!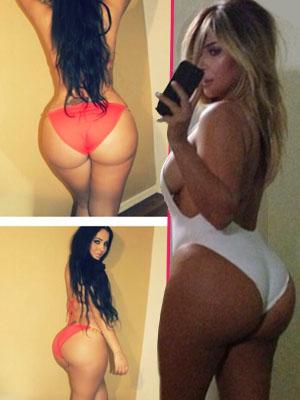 Does Instagram queen Kim Kardashian need selfie lessons? Kris Humphries' other ex, Myla Sinanaj thinks so. After Kardashian posted her first R-rated post-baby pic last week, Sinanaj took to Twitter to show Kardashian how it's done, showing off the results of her recent plastic surgery makeover.
Showing the Vivid video queen from almost every angle in a red-hot string bikini, the pics are captioned "The correct way to post a selfie," and an insider confirms to RadarOnline.com that it was a tongue-in-cheek jab at Kardashian.
Article continues below advertisement
"Of course you know who that was directed to!" a friend of Sinanaj laughs. "Kim tries to act like she's the master of selfies, but you know her people probably worked on photoshopping that picture all day. Not to mention, Kim loves to pose in a bikini and show off her stomach. It's obvious she's still hiding her stomach because it isn't back to where it was. She should have just waited until she looked her best instead of posting that. Or spent time with her kid instead!"
"Basically, Myla looks way hotter than Kim these days and she was excited to show it off," the source explains. "People are always comparing the two of them, so she figured she'd make it clear who has the better body now.Myla has a sense of humor about the whole thing and thought it would be funny."
Sinanaj was also excited to show off the results of her recent plastic surgery makeover, says the source, especially since the goal of her procedures was reportedly to make her look more like Kardashian.
Article continues below advertisement
"Myla had lipo on her lower back and love handles, and redid her boobs," the source reveals. "She's basically been healing for the past five weeks. They made her do a photo shoot like five days after surgery when she was still swollen, so she wanted to show what she looks like now. She's thrilled!"
Top NYC plastic surgeon Matthew Schulman completed the procedures, which, the source insists, did not include any alterations to her lower half. "Myla's butt is totally real!" the source insists. "It looks bigger now because her waist is smaller, but it's real."
Now that she's shown off the results on Twitter, says the source, "Myla can't wait to get down to Miami and show it off on the beach!"
Who wins the battles of the butts? Let us know in the comments!