Kendall Jenner Lets Fans Know She Supports Dad Bruce In Split From Mom Kris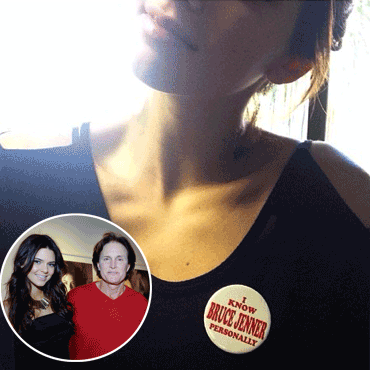 Kendall Jenner is wearing her heart on her sleeve, or at least on her Instagram page.
Caught in the middle of her parents' split, Kendall is wearing a button letting everyone know whose side she's on, something RadarOnline.com told you about first!
"I Know BRUCE JENNER Personally," is the message.
As RadarOnline.com was the first to report, Kendall and her sister, Kylie Jenner, have taken opposing sides in the marital bust-up, with Kendall supporting dad Bruce Jenner and Kylie siding with mom, Kris Jenner.
Article continues below advertisement
"Kendall would like to move into Bruce's house full-time but Kris always gives her a guilt trip about it," a source told us.
So, for now at least, Kendall is splitting her time between her parents, and using social media to get her feelings out.