Casey Anthony Murder Trial Lawyer Jose Baez Hired To Defend 12-Year-Old Girl Arrested For Bullying Suicide Victim Rebecca Sedwick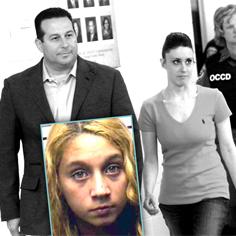 Casey Anthony's high-profile attorney Jose Baez, who won a landmark acquittal for her, has been hired to defend one of the little girls who was arrested in connection with Rebecca Sedwick's tragic suicide RadarOnline.com has learned.
Baez will be representing Katelyn Roman, the 12-year-old girl who was arrested and charged with aggravated stalking after Sedwick following the bullying authorities claim she received from her friends.
Article continues below advertisement
As RadarOnline.com exclusively reported, Roman claims that she was bullied and sexually abused in a gut-wrenching video, recorded on April 25 last year and titled 'My Secrets,' where the troubled girl sits silently and shows a series of ten notes scrawled on a pad.
Messages in the video read, "I think I am ugly" and "I think I am fat." In another somber note, the Lakeland, Fla., girl reveals:
"I used to get bullied."
"I want my life to end," another read. "I hate myself."
Roman and her friend, Guadalupe Shaw, 14, were arrested and named by the local sheriff, who charged both with aggravated stalking of Sedwick, 12, who was bullied online by a gang of up to 15 school girls before her death.
The videos were posted on YouTube with a message from Roman, declaring: "These are all my secrets… just have to get them off my chest." RadarOnline.com chose not to publish the videos.