Exclusive
Girl Accused Of Bullying Florida Teen To Suicide Tells Of How She Too Was Tormented -- And Claims She Was Sexually Assaulted -- In Shocking Online Video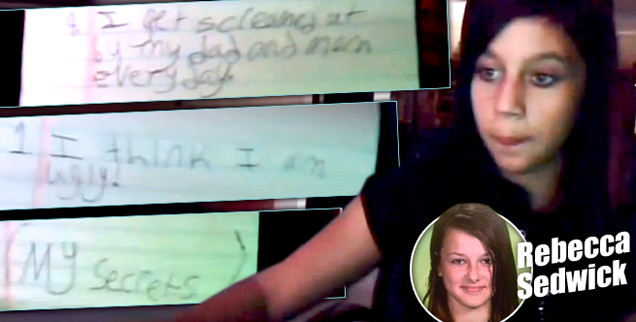 Katelyn Roman, the 12-year-old who was arrested and charged with aggravated stalking over the death of schoolmate Rebecca Sedwick, told how she was also bullied and claims she was once sexually assaulted, in never-before-seen home videos posted online and uncovered by RadarOnline.com.
During a series of clips -- all recorded before the suicide -- a clearly distraught Roman admitted she wanted her own life to end.
Article continues below advertisement
In one gut-wrenching video, recorded on April 25 last year and titled 'My Secrets,' the troubled girl sits silently and shows a series of ten notes scrawled on a pad.
They included messages which read, "I think I am ugly" and "I think I am fat." In another somber note, the Lakeland, Fla., girl reveals: "I used to get bullied."
"I want my life to end," another read. "I hate myself."
Roman and her friend, Guadalupe Shaw, 14, were arrested and named this week by the local sheriff, who charged both with aggravated stalking of Sedwick, 12, who was bullied online by a gang of up to 15 school girls before her death.
The videos were posted on YouTube with a message from Roman, declaring: "These are all my secrets... just have to get them off my chest."
At the one minute and 12 second mark of the video, Roman, dressed in a block polo shirt and appearing to be inside the family home, then detailed the alleged sexual abuse she suffered.
RadarOnline.com has chosen not to identify the man she named and accused of "touching her," nor are we publishing the videos.
Article continues below advertisement
When questioned about the nature of her daughter's claims, Roman's mother deferred RadarOnline.com to the family lawyer, who had no comment. That lawyer has since ceased working with the family.
In the heartbreaking video, Roman also detailed her sadness at her family living situation.
"I get screamed at by dad and mom every day," she wrote.
At the end of the short clip, a meloncholy Roman shrugs her shoulders and waves goodbye to the camera.
The emergence of the video and Roman's own claims about being tormented is yet another twist in a case that has saddened and transfixed America.
Sedwick took her own life on September 10 after jumping from a disused cement tower.
Prior to her death, she'd searched the internet for ways to commit suicide and asked questions like, 'What is overweight for a 13-year-old girl?'
Law enforcement authorities believe Sedwick had suffered a cyber hate campaign led by Shaw and Roman.
Article continues below advertisement
Shaw later boasted in a Facebook post after her classmates' death, 'I know I bullied Rebecca and she killed herself but I don't give a f***."
When Roman was interviewed by police, she allegedly admitted to bullying Sedwick and said she was sorry.
Roman had been Rebecca's best friend but had been turned against her by Shaw, police have said.
Despite being juveniles, the Polk County Sheriff, Grady Judd, took the unusual step of 'naming and shaming' the pair.
He has indicated that he's looking into charging their parents of the children as he believes they should share part of the blame for allowing their children to post a series of vile messages.
In an interview Thursday, a man identified as Roman's father who said he was feeling "horrible about the whole situation," but added "there's two sides to every story."
"The day that this happened, we all felt super horrible," the man said.
"I've even brought my daughter numerous times to the grave where she jumped. She even went over there and prayed at night, but that's all that can be done right now and I can't really say too much more."
If you, or anyone you know, is struggling with thoughts of suicide, please immediately seek help — you can speak with a skilled, trained counselor at a national Suicide Prevention Lifeline crisis center in your area, anytime 24/7 — call 1-800-273-TALK (8255).