'DWTS' Feud! Mark Ballas Slams 'Hypocritical' Julianne Hough After She Critiques Him During Guest Judge Stint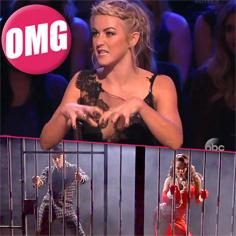 Watch your step, Julianne Hough! The DWTS dancer turned Hollywood star is in hot water with current Dancing with the Stars pro Mark Ballas after criticizing him during her appearance as a guest judge on the show Monday night.
"There were moments when I felt like choreography-wise, I felt like it was two people standing side-by-side rather than together," Hough told Ballas and his partner, Christina Milian, after their performance. "So I really want to see her shine. I've danced with Mark. You have to stand in front to make sure you're seen."
Article continues below advertisement
Backstage, Ballas blew up, Us Weekly is reporting.
"The one comment for me that was a little funny is that I make it all about me …" he said. "All the critiques were at me, and not at Milian. So I thought that was a little hypocritical comment."
"I think Hough was very insightful tonight though, and gave great tips on lines and how to express," he then admitted. "We've had a lot of guest judges and I thought out of all of them she was one of the best. So that part, I love. I was the one who kind of got the heat, but you know what, that's OK! It's fine."
The childhood BFFs have been somewhat estranged since earlier this year, when Hough's claim that she was mentally and physically abused as a teenager seemed to point the finger at the Ballas family, who trained her in England during her youth.
Do you think Hough's comments were over the line, or is all fair on the dance floor? Let us know in the comments!