Conan O'Brien Makes Pitch To White Stripes Rocker Jack White: Let's Buy A Baseball Team!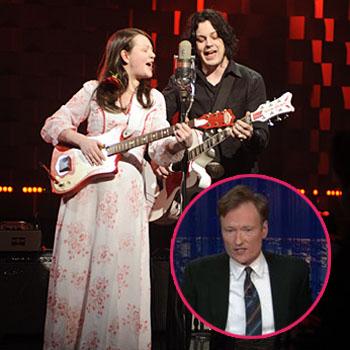 Unlikely BFFs Conan O'Brien and rocker Jack White make a good business team: They recorded two successful albums together in 2010, and White did a four-night stint on O'Brien's show earlier this year. But for their next project, the duo is planning something outside each of their spheres of professional experience: RadarOnline.com has exclusively learned that the two are in talks to buy a minor-league baseball team together!
Article continues below advertisement
Talk show host O'Brien, who has a reported net worth of $75 million, recently made his pitch to the White Stripes frontman and fellow baseball nut, who's reportedly worth a respectable $30 million himself.
And according to the insider, the suggestion was a home run.
"They are both obsessed with baseball and have the kind of cash where this is a realistic option," the source explains. "The two already met with Dodgers management in the past week while they were spending time hanging out together in Los Angeles."
Both performers have shown their passion for the game before.
O'Brien once told viewers on his old Late Night with Conan O'Brien show that his favorite sketch he ever did was a report on a group of people who played baseball as though they were still living in 1864, complete with old-time uniforms.
As for White, in 2009, it was reported that he anonymously donated $170,000 to help restore a baseball field in his hometown of Detroit.
White, born Jack Gillis, played baseball at Detroit's Clark Park as a boy.
His former coach told The Detroit News, "He was good. Smooth, left-handed swing."
Now, according to the source, the two famous fans hope to root, root, root for their own team.