Christina Aguilera Fears Jimmy Kimmel's Voice: Judge Refuses To Appear On His Talk Show And Face 'Awkward Questions'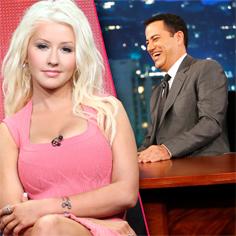 Christina Aguilera has no plans to hear the voice of Jimmy Kimmel on his ABC talk show!
The Voice judge has told her team that she's limitting her talk show appearances to promote the NBC reality show to Jay Leno's The Tonight Show, according to a source, because she fears Kimmel would ask her "uncomfortable questions" on Jimmy Kimmel Live.
"Christina is deathly afraid of being asked about her divorce and weight and feels that Jimmy, even though he has invited her on many times, is going to go for the jugular and ambush her if she sat down on his show," a source close to the singer told RadarOnline.com.
Article continues below advertisement
Aguilera, 32, who recently has displayed noticeable weight loss, was married to music marketing executive Jordan Bratman from 2005-2011.
According to the source, "Christina is irrationally afraid about being asked about that stuff! They're awkward questions!"