Exclusive
Britney Spears' Dad To Conservatorship Judge: I Want More Money!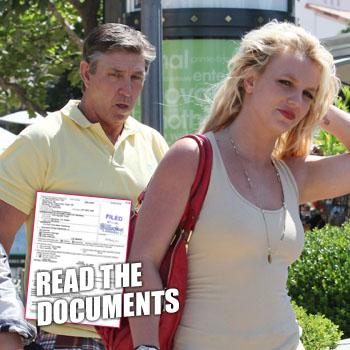 Running the life and career of Britney Spears is a tough job, but somebody's gotta do it. And since a court ruled in 2008 that she was not fit to, her father, Jamie Spears has stepped in. Jamie has overseen Britney's life pretty much without complaint for more than five years, but now, RadarOnline.com has learned, he's asking for more money! Court documents obtained by RadarOnline.com expose what Jamie's been paid for taking care of his daughter, and what his demands are going forward.
Article continues below advertisement
But he also receives $1,200 per month to pay rent for his office, and now, he claims, that's not enough.
He claims, "as my rent has steadily escalated over the last three years, I request that I be reimbursed an additional $800.00 per month for my office expense for the time period of November 1, 2012, through August 31, 2013," which adds up to $7,200. He also asks "that I be authorized to spend the sum of $2,000 monthly, rather than the previously ordered $1,200 monthly, for my office space in a secure location that is dedicated to Britney's activities."
Jamie claims he uses that office for completing Brit's business duties, such as the recently concluded "negotiations with respect to Britney's upcoming concert series at Planet Hollywood … to maximize the contractual benefits she would receive with a minimum of financial risk to her and a safe, structured, and pleasant environment."
In fact, signing on to the show ensured that Britney will remain under her dad's control for at least two more years, as RadarOnline.com reported, which means Jamie will rake in at least $432,000 more from his daughter's estate before she has any hope of getting out of the conservatorship.