Bethenny Frankel Is Desperate! She 'Would Suck The Blood From Your Child To Get Ratings,' Says Ex-RHONY Co-Star Kelly Bensimon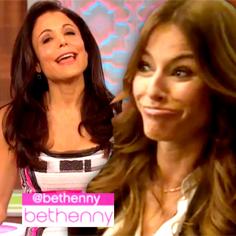 As Bethenny Frankel's talk show goes down in flames, the former reality star is pulling out all the stops to try to save her spot on the couch. But one desperate ploy recently backfired when she attempted to engineer a RHONY reunion and her former cast members flipped out at the ballsy move, as RadarOnline.com reported. This week, several of the women opened up to In Touch, with Kelly Killoren Bensimon telling the mag, "She is just a sensationalist. She will suck the blood from your child to get ratings! I am so over her."
Article continues below advertisement
Frankel's frenemy, Jill Zarin, was similarly disgusted by the move, as RadarOnline.com previously reported.especially since Frankel reportedly had a staffer call the ladies rather than reach out herself.
"She couldn't even pick up the phone to call me!" Jill complained to In Touch. "I was shocked."
Fellow former cast member Alex McCord explained, "It would have gotten a lot of attention and probably been good ratings. But a Real Housewives of New York City reunion is a valuable product, and it shouldn't be on anybody's talk show. It should either be done on Bravo or not at all. I can't imagine Bethenny would have been surprised by the answer she got."
But Zarin insists she was stunned that Frankel would use their friendship as a last-ditch attempt to save her show. She explains, "I was hoping she was looking for resolution and not to use me for ratings."
With a reunion off the table, Frankel better hope she comes up with a spectacular solution soon if she wants to stay on air. Currently ranked at #13 in the ratings, the show has suffered from a lack of A-list guests and Frankel's tensions with staff and even her boss, Ellen DeGeneres, as RadarOnline.com has reported.