Exclusive
Here's How To Save Your Sinking Show: Ellen DeGeneres Tells Bethenny Frankel To Stop Talking About Her Divorce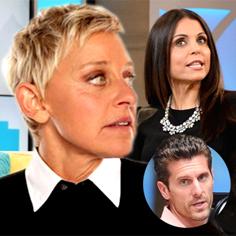 Article continues below advertisement
"Ellen wants Bethenny to stop yakking about the divorce because there is a public perception that she's to blame for the split," a source close to the situation told Radar.
"Jason is very sympathetic figure -- a doting dad -- and quite frankly, many of Bethenny's viewers and fans don't understand why she dumped him.
"Whenever Bethenny opines about how hard the divorce has been on her and bemoans that Jason wasn't the love of her life, viewers turn the channel.
"This is one of the major factors contributing to Bethenny's very weak ratings."
The Skinnygirl mogul is also frustrated with DeGeneres for not helping to get A-list celebrities to appear on her program, as RadarOnline.com previously reported.
She "has been forced to focus on more lifestyle and cooking segments," one production insider spilled.
In contrast, Queen Latifah -- also a new talker -- has already interviewed John Travolta and Will Smith.
However, just because DeGeneres wants Frankel to seal her lips when it coes to divorce, that "doesn't mean she is going to," chimed the source.
"Bethenny isn't used to being told what to do and feels that her audience relates to her," the insider said.
"She believed the audience understands how hard the divorce is on her. Bethenny will do things her own way, no matter what anyone -- including her boss -- says."