Amy Poehler & Tina Fey Inked Multi-Million Dollar Deals To Host Golden Globes… Each!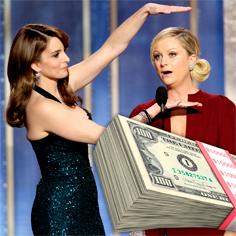 And the award for the funniest – and savviest – women in Hollywood goes to… Amy Poehler and Tina Fey.
RadarOnline.com has exclusively learned that the former Saturday Night Live colleagues negotiated a big bucks deal to host the Golden Globes for the next two years.
And because they were such a hit hosting the ceremony back in January, they will both take home as much multi-million dollar packages when they host the event, a Hollywood production source reveals.
Article continues below advertisement
"Tina and Amy decided to ask for the craziest package ever given to awards hosts," says a source who says the funny duo started negotiating the deal back in March.
"They are each being paid more than any Oscar host in history with the exception of Billy Crystal."
Specifically, the numbers are: Billy has gotten almost $5 million to host the 2012 Oscars while the "standard first timer pay for the likes of Anne Hathaway, Hugh Jackman, and Seth MacFarlane is closer to $2 million."
Tina and Amy, the source adds, are getting a "huge perks package that includes use of the NBC/Comcast private planes as they prep for the awards and full freight on their entourages, who will all be backstage to support them during the live broadcasts."
Joked the insider: "They basically saw how desperate NBC was for their help and decided to take them for a ride."
Proving you can be funny and a woman in Hollywood, Poehler, 42, and Fey, 43, brought in 19.7 million TV viewers, which was a six-year high for the Golden Globes.
"Tina and Amy are two of the most talented comedic writer/performers in our business, and they were a major reason the Golden Globes was the most entertaining awards show of last season," NBC president of alternative and late night programming Paul Telegdy said in a statement.
"We're elated they wanted to host together again and that they are committed for the next two years."