Super Bowl Champ Joe Flacco On Blackout & Scoring Big Bucks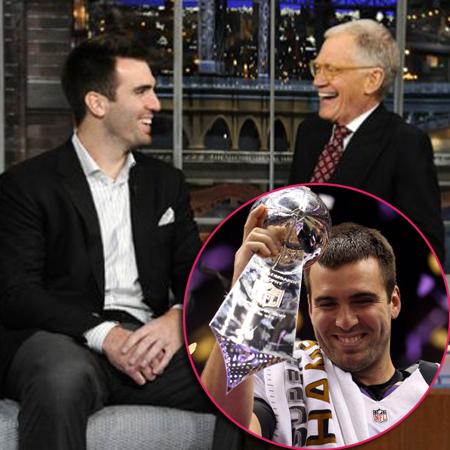 A night after leading the Baltimore Ravens to a 34-31 win over the San Francisco, the game's MVP Joe Flacco sat down with David Letterman on Late Show for a chat about his pending free agency and the blackout that the game will likely be remembered by.
"When the lights went out, did you find that unnerving?" Letterman asked the salty-tongued quarterback. "I found that unnerving and I wasn't anywhere near Louisiana."
Article continues below advertisement
Flacco replied, "I just thought it was a little strange, it was kind of funny. I mean, some of our guys had a good time with it … we didn't play too well afterwards."
Letterman then put the game's reversal of fortune into paranoid perspective.
"When the lights go out, its 28-6, it's just out of halftime and bang, zoom, we're 28-6, the lights go out," Letterman said. "You don't find that suspicious?"
"Believe me, don't get me started," Flacco said. "My dad is a big conspiracy theorist, so, you know, that's the last thing we need to talk about."
Letterman joked that perhaps 49ers Head Coach Jim Harbaugh engineered the delay as a rib on his brother, Ravens Head Coach John Harbaugh.
"Hey, being an older brother and having a lot of younger ones, that's definitely something they would do," Flacco joked.
Letterman also grilled Flacco -- who passed for 287 yards and three touchdowns in the big game -- on his pending free agency, as he'll clearly break the bank from Ravens owner Steve Bisciotti after passing on an extension offer he felt was too low last year.
"Well ... when I wasn't signing what they wanted me to sign, Bisciotti said, 'Listen, when the time comes, I mean, you come and beat on my desk,' and I said, 'All right, I'll take you up on that.'
"And I think the time has come."
Watch Monday's Late Show with David Letterman, featuring the interview with Flacco on CBS.com.
Fun fact: Indiana native Dave is a fan of the NFL's Indianapolis Colts, who moved to the midwest from Baltimore in 1984.