'Gay? It's Possible': Son Of 'Wheel Of Fortune' Star Vanna White Reveals He's In A 'Special Relationship' With Hare Krishna Monk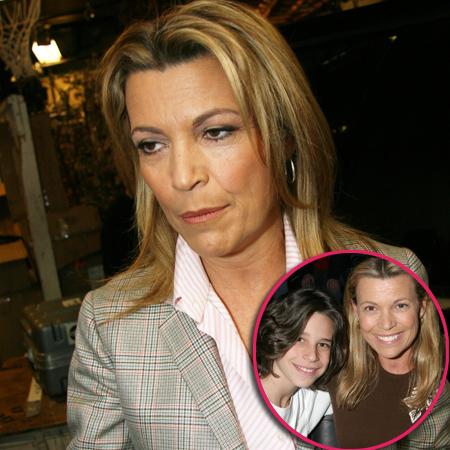 Vanna White was struggling with the worry that she had lost her son to a religious cult but a bombshell new development in the story has found that her 19-year-old son is exploring a gay relationship with a Hare Krishna monk who's 15 years his senior – and the couple is hoping to get Vanna's blessing!
The National Enquirer has an exclusive interview with The Wheel of Fortune star's son Nicholas, nicknamed "Nikko," who is living with Jaycee Akinsanya, a 34-year-old, in Arizona.
Article continues below advertisement
"Jaycee and I have a special relation­ship," Nikko proudly declared. "It's the closest I've ever been with anyone. It's just spiritual and wonderful and there is chemistry – and if there's sex also, so be it. It doesn't matter!"
The report reveals that Nikko and Jaycee met with Vanna and his dad, restaurant mogul George Santo Pietro, and the meeting went well.
"They are wonderful people," Jaycee told The ENQUIRER. "We visited them in Los Angeles but we slept in different rooms."
Nikko interjected: "My parents would not have understood us shar­ing a room. We had to be cool and respectful."
But now that Nikko is in college and out of the house, Jaycee says it's the young man's decision whether or not to continue their relationship.
"If Nikko's parents asked me to stop seeing him, I would listen to their request and leave it to Nikko to decide," disclosed Jaycee.
The optimistic pair reveal they would like to have Vanna accept their relationship.
Article continues below advertisement
"My mom and dad like Jaycee," Nikko told The ENQUIRER. "They don't think he is a demon.
"This is a good example for anyone who is young and trying to explore different avenues in life.
"Our relationship is not sexual in the full sense, but we are very close.
"As far as my sexual preference, I'm undecided. I have had one girlfriend and never had a real boyfriend. We are just happy to be together, loving each other in whatever way possible," Nikko emphasized. "Gay? It's possible."
For more exclusive details about Vanna's son's relationship with Jaycee and how they are living now pick up the latest issue of The National Enquirer on newsstands Thursday.