'Wheel Of Fortune' Star Vanna White's Teenage Son Joins Hare Krishna Religious Cult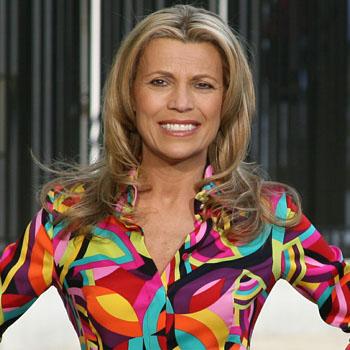 Bad grades, partying too much, relationship trouble -- that's what most parents have to worry about when their kids head off to school. But Wheel of Fortune glamazon Vanna White is struggling with an even more terrifying issue as her son Nikko is reportedly being "brainwashed" by a dangerous religious cult!
The National ENQUIRER has all the details on the scary situation involving the University of Arizona sophomore.
Article continues below advertisement
According to the ENQUIRER, Vanna's son was swept into the infamous Hare Krishna cult after meeting 34-year-old monk Jaycee Akinsanyaas a freshman. The two now live together near campus and the magazine claims Nikko even asked his parents to give the man $1 million to build a new ashram!
Vanna and the boy's father, her ex, George Santo Pietro, were adamant that they wouldn't lend their financial support to their son's new friend, so Jaycee told Nikko that his parents have got to go.
"Since then Akinsanya has been reminding Nikko that he should follow his own path and advance his spiritual life," a source told the mag. "It's like Akinsayna is trying to brainwash him!"
Indeed, a cult expert explains, that's been textbook behavior for the Hare Krishnas for decades.
"They pressure members to reject family members and friends and even quit their jobs to live in the temple full time and serve the guru," Nori Muster, a Hare Krishna member from 1978 to 1988 and author of Betrayal of the Spirit: My Life Behind the Headlines of the Hare Krishna Movement tells the ENQUIRER.
Article continues below advertisement
"They also pressure members into giving their inheritances, bank accounts and material possessions to the guru."
Since Vanna is worth $40 million and her restaurateur ex sold a home in 2011 for $23.5 million, Muster says Nikko is a clear target.
But Nikko insists he's just building his own life, like many other college students.
"Jaycee has not brainwashed me," he told the ENQUIRER. "I didn't ask my parents for a million dollars for a new Ashram. The money I asked for was for my living expenses -- food, gas and for living my spiritual life with Jaycee."
For more details about the alleged monk's shady past and troubles with the law, pick up the latest issue of the National Enquirer on newsstands Thursday.